Jeep's Easter Safari reveals something we didn't think would happen: a 2-door Gladiator. This Jeep pickup truck was only supposed to come in a crew cab format. We agree that it's a popular format, but it's always nice to see a few regular cab variants as well. To please customers, we see a 2-door Jeep Gladiator coming to the Easter Safari in Moab, Utah as a concept vehicle.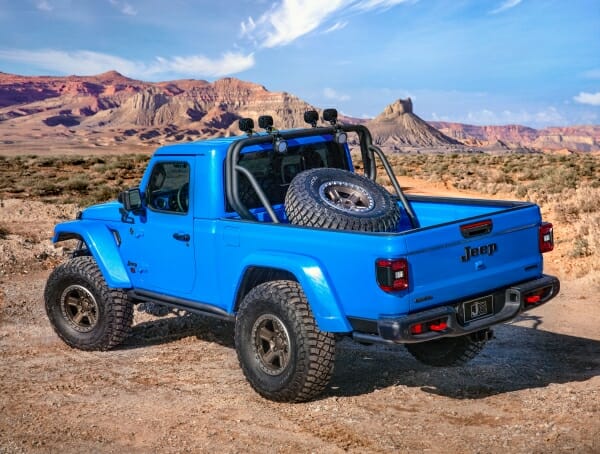 Jeep J6
The Jeep J6 reminds us of the 1970s CJ Wrangler with features of the modern Gladiator intertwined. This offers a longer bed and shortened wheelbase. The wheelbase measures 118.4 inches, which is the same as a Wrangler. The removal of the back part of the cab lengthens the bed an extra 12 inches. There's also a prototype roll bar in the truck bed. The concept J6 is painted in Metallic Brilliant Blue so it appears just like the 1978 Jeep Honcho.
The J6 has no trouble going off-road with the two-inch lift plus 17-inch Beadlock wheels and 37-inch tires. There's also a steel two-inch stinger bar bolted to the bumper plus some steel tubes on the rock rails. Underneath the hood, we see the 3.6-liter Pentastar V6 that we are all fans of. It also has a cold-air intake to give a little extra power.
2-Door Gladiator Production Model
Sadly, the J6 won't become a production model. Instead, FCA designed this two-door Jeep to invoke nostalgia in fans. With that said, it proves that FCA knows how to make one if they should choose to do so in the future. It's possible that they could change their minds if the existing Gladiator sells well. Maybe as early as 2020 we could expect some news about this variant coming to dealerships.
What most excites you about this concept Jeep? Let us know in the comments.