It's official! The 2019 BMW 8 Series Convertible has been unveiled and we couldn't be happier. This second model in the lineup is the first convertible version and is sure to make quite the impression on enthusiasts everywhere.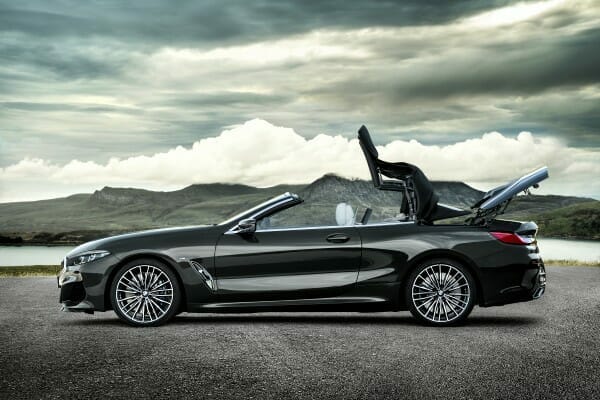 New Beginnings with a 2019 BMW 8 Series Convertible
This four-passenger convertible brings complete revival to the BMW 8 Series badge. It utilizes a classic soft-top that opens or closes in only 15 seconds. You can do this while traveling at 30 mph to make things even easier. The overall design of the 2019  BMW 8 Series convertible doesn't look much different from the coupe version except it features a rear deck which hides the roof.
The BMW 840d xDrive Convertible comes equipped with a six-cylinder in-line diesel engine that produces 320 horsepower. The other model is the BMW M850i xDrive Convertible that comes complete with a 4.4-liter V8 engine that produces 530 horsepower.
Both of these models come with all-wheel drive and an eight-speed Steptronic transmission. In addition, standard equipment includes an M suspension and active steering. With the V8, you also get an electronically-controlled M Sport differential on the rear axle.
A quick look inside the 2019 BMW 8 Series Convertible reveals availability of BMW's newest infotainment system, a 10.25-inch display, wireless phone charging plus a Bowers & Wilkins premium sound system. The rear seats feature a 50/50 split and there's ample cargo space included.
You also gain access to numerous dynamic modes with this vehicle. Choose Adaptive, Eco Pro, Sport, Sport+ or Comfort. These work together to provide lots of functionality for the convertible. From a technology stance, you'll also have access to the BMW Intelligent Personal Assistant when it's released in March, next year. The Driving Assistant Professional package utilizes Stop & Go function, Active Cruise Control, Lane Change Warning, Lane Departure Warning, Steering assistant, side collision protection, distance information, evasion aid, Wrong-way warning and more.
What Do You Think of This New Convertible?
Do you plan to head out in March and pick one up for yourself?