There are a few SUVs as big as the Dodge Durango. At more than 200 inches long, it even beats the Toyota Highlander and Ford Explorer. But that's not what makes the 2019 Dodge Durango SRT so special; its speed is. With a 6.4-liter V8 engine and 475 horsepower, this is the fastest three-row full-size SUV on the market.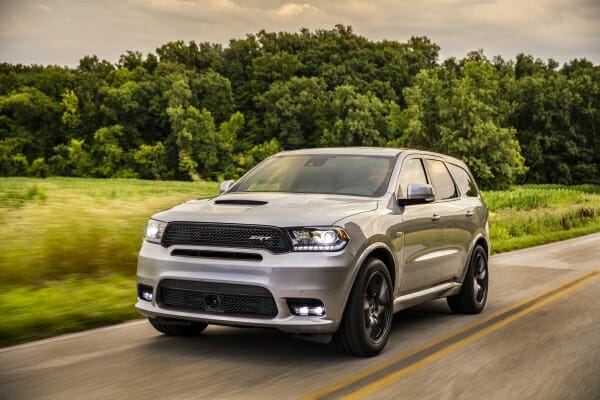 2019 Dodge Durango SRT Impresses
This SUV began in the 1990s, but in 2011 it changed from a pickup chassis to a unibody construction instead. Since then, the Durango remained competent, although there was nothing that really made it special. That was until Dodge announced the arrival of the SRT trim.
If you've been living under a rock, you might not know that SRT stands for Street Racing Technology. It's often used to denote the fastest car lineup from Dodge. So, when they announced the SRT lineup for the Durango, everyone stopped and took notice.
The 2019 Dodge Durango SRT is equipped with a 6.4-liter V8 engine making it the most powerful full-size SUV from the automaker ever. Not only does it pump out 475 horsepower, but it also contains 470 pound-feet of torque. This large, 5,500-pound seven-passenger SUV hits 60 mph in 4.4 seconds.
In case you don't realize how exceptional that is, think about the Mustang GT. It's about the same speed, but we are talking about an SUV that's nearly twice the size. Quite impressive!
Other Equipment
Of course, the 2019 Dodge Durango SRT needs to have more than just fast speeds to be worthy of the name. It also contains Brembo brakes which ensure it stops in about 167 feet. There's even a Bilstein adaptive suspension on the SUV that allows you to experience a smooth ride no matter where you travel.
Of course, all that goes out the window as soon as you put it in Track mode. Then, everything turns taut as this SUV prepares to race. On top of that, it comes fully equipped with numerous convenience features. You have access to remote entry, a power liftgate, power-folding heated and auto-dimming side mirrors, automatic high beams and automatic wipers.
Other standard features include heated and vented Nappa leather seats, suede headliners, three-zone climate control, a nine-speaker premium Alpine stereo system, heated steering wheel plus an auto-dimming rearview mirror. If you want to put out a little extra, you can grab a 19-speaker premium Harman Kardon sound system instead along with adaptive cruise control, lane departure warning, rear cross path detection and forward emergency braking.
Of course, the starting price on this beast is $64,490 which makes it one of the more expensive full-size SUVs on the market. Sadly, it does have a competitor and it comes from the same family. The Jeep Grand Cherokee Trackhawk features 707 horsepower thanks to its supercharged 6.2-liter V8 engine.
But, the Trackhawk can only hold five passengers while the Durango SRT has room for six. Having room for one more person makes a world of difference for today's families.