The latest specs have been released for the 2019 Ford Ranger and they are impressive. While it only comes with a 2.3-liter EcoBoost turbo four-cylinder, Ford still claims it beats all the other gasoline engines in its class in relation to torque. Does it stand up to the Chevy Colorado and other V6 competitors? To answer this, we've got the numbers you need. Let's take a look at the new 2019 Ford Ranger.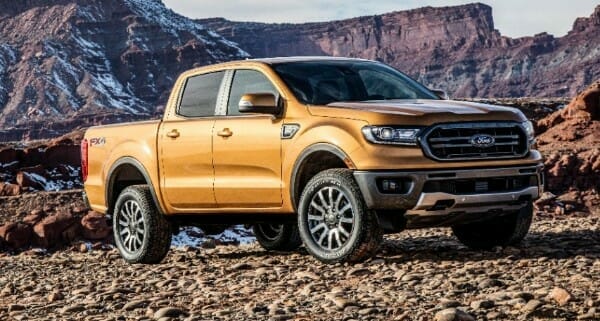 Best-in-Class Towing Capacity
Looking beyond the engine for a moment, we see that the 2019 Ford Ranger has a maximum payload of 1,860 pounds plus a maximum towing capacity of 7,500 pounds. To compare it yet again to the Chevy Colorado, you're only looking at a maximum payload of 1,574 pounds and towing capacity of 7,000 pounds with the V6 gasoline engine.
Keep in mind that those numbers for the Ford do require the truck to be equipped with a tow package and trailer brake controller.
Let's get back to the horsepower and torque, shall we? The 2018 Chevy Colorado comes with a 3.6-liter V6 that produces 38 more horsepower than the Ranger. Even still, Ford says that the EcoBoost provides more engine-turning power than the other midsize pickups with gasoline engines . It's true considering the Ranger produces 35 more lb-ft of torque than the Chevy Colorado does at 275 lb-ft of torque. Keep in mind that the Colorado is also available as a 2.8-liter diesel which bumps that number to 369 lb-ft of torque.
Other Info on the 2019 Ford Ranger
The 2019 Ford Ranger's four-cylinder engine pairs with a ten-speed automatic transmission. On top of that, they'll begin production at the Wayne, Michigan plant later on this year.
The starting price will be higher than you're used to seeing in a mid-size pickup truck. With that in mind, it's clear that consumers are going to get more for their money.
Ranger vs. Other Competitors
We've taken a look at how the torque, towing capacity and payload capacity exceed the Colorado, but what about some of the alternatives out there? Let's break it down for comparison.
Nissan Frontier – 4.0-liter V6 producing 261 horsepower and 281 lb-ft of torque. Hauls 1,502 pounds of payload and tows 6,710 pounds.
Toyota Tacoma – 3.5-liter V6 producing 278 horsepower and 265 lb-ft of torque. Hauls 1,620 pounds of payload and tows 6,400 pounds.
Only time will reveal whether the Ranger satisfies user's needs they way they claim. Therefore, we'll have to wait and see. Of course, Ford's been standing up against the competition in more ways than one. Just check out their latest F-150 ad.