The first thing you might notice about the 2020 Acura NSX is the color. Acura is bringing back a color that hearkens back to the original NSX: yellow. This new shade is called Indy Yellow Pearl. Much of the interior features and engine specifications remain the same, which is a good thing. The performance and handling of the NSX are legendary.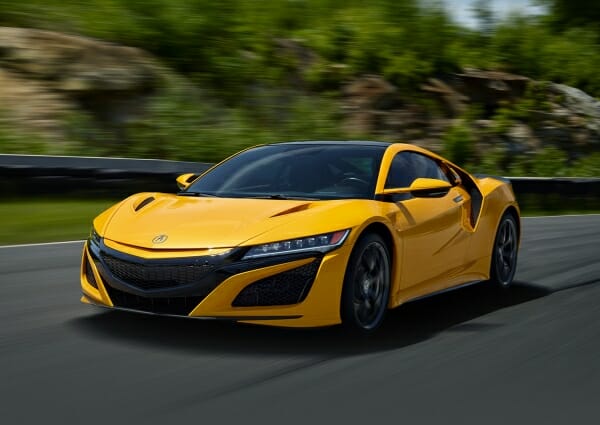 Exterior Features
Besides Indy Yellow Pearl, other offerings include Thermal Orange Metallic, Source Silver and Casino White Pearl. Each of these upgraded colors will cost an additional $1,000. There will also be two premium colors, costing $6,000 extra: Valencia Red Pearl and Nouveau Pearl.
2020 Acura NSX Engine & Performance
To racing and high-performance drivers, the most impressive feature of the 2020 Acura NSX is what lies underneath the hood. The NSX comes equipped with a 3.5L V6 engine that includes 500 horsepower and 406 lb-ft. of torque. It comes with a 9-speed dual-clutch transmission. The 2020 NSX will be able to accelerate from zero to sixty miles per hour in an astounding 2.7 seconds!
Interior Features
The 2020 NSX will feature ergonomic leather seats with Alcantara at the center of the sports seat. It also contains a steering wheel that is designed in a race car style, along with other modifications in the dash and rearview mirror to maximize driver visibility. The sound system is ELS Studio Premium Audio, complete with nine speakers. In addition, the center-based infotainment center has all of the navigation and entertainment features that you may need. There are also three different driving modes to choose: Quiet, Sport and Sport+Track.
The new Acura NSX is a beast. It is a high-performance speed demon, with many of the design features found in race cars, but with the comfort of a luxury vehicle. It will be available for delivery in November. This vehicle may just make our next best supercars list.
There's a lot to love about there new Acura lineup. We look forward to having this automaker plans to release.