It wasn't that long ago that GM announced the arrival of the 2020 Buick Encore GX, but just recently we've received some new information. Let's look at what this SUV will offer.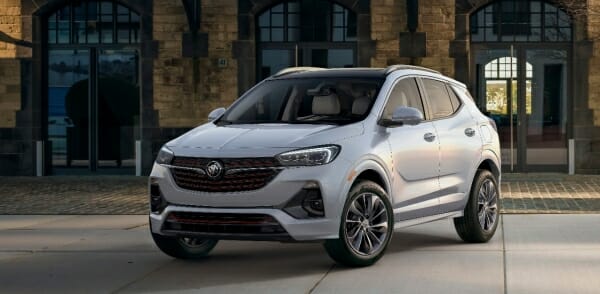 2020 Buick Encore GX
The Encore GX comes with two engine options. Both of these are new, turbocharged, inline three-cylinder motors from GM. The first option is a 1.2-liter turbo three-cylinder LIH that pumps out 137 horsepower. The second option is a 1.3-liter turbo three-cylinder L3T that outputs 155 horsepower.
If you compare this to the 2019 Buick Encore, you see it's a significant upgrade from the four-cylinder turbo engine that produces 138 horsepower. There was also an optional 1.4-liter turbo which outputs 153 horsepower.
We saw the GX launch in China a month ago, but that market had a higher rated engine that we won't see. The subcompact model sits comfortably between the Buick Encore and the Buick Envision. When looking at it compared to the regular model, we see an extra five cubic-feet of cargo space.
New models also come with front-wheel or all-wheel drive.
Standard features include Front Pedestrian Braking, Forward Collision Alert, Automatic Emergency Braking, Lane Keep Assist and Lane Departure Warning. It also has an available rear camera mirror and high-definition surround vision camera system.
2020 Buick Lineup
There will be a lot to love about the 2020 Buick vehicles. We love the way they are redesigning the brand and look forward to see what's to come. Some models to keep your eyes on include the 2020 Enspire and the 2020 Envision. At this time, we aren't quite as excited about the  2020 LaCrosse, 2020 Enclave, 2020 Regal and the 2020 Cascada.
As far as SUVs go, we still think that several other companies have a lot more to offer. One vehicle we have our eyes on for next year is the 2020 Toyota 4Runner. But we would like to hear from you. What are you excited about?