The Michigan State Police just finished preliminary testing on the 2020 Ford Police Interceptor Utility. What they found was this all-wheel-drive, 3.0-liter EcoBoost® V6 beat out all other tested police vehicles, including V8 sedans.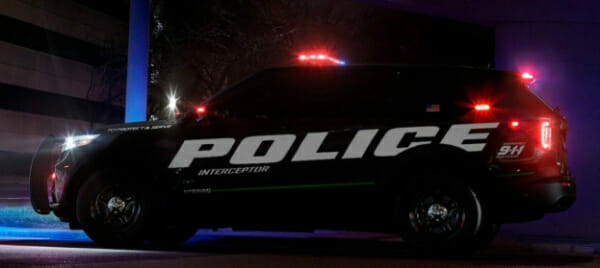 2020 Ford Police Interceptor Utility
This purpose-built vehicle is strictly designed for law enforcement. It features a hybrid powertrain, a spacious interior and reduced fuel costs. The hybrid engine pairs perfectly with the all-wheel-drive system. The 2020 Ford Police Interceptor Utility posted the fastest 0-60 mph time of all the entries.
With the fastest times also came the highest top speed of all the evaluations. This SUV clocked 150 mph beating out all the other SUV entries, even with a V8 engine.
Furthermore, in 2017, the Ford Police Interceptor Utility accounted for 52% of all law enforcement sales. With that in mind, the expectation is that by 2020, these SUVs will continue to account for 50% of sales.
Potential Fuel Savings
Even though the fuel economy certification is not yet completed, the hybrid model projects a combined 24 mpg.
Yearly savings could equal $3,500 each year in fuel when compared to the current model. If you apply those savings to the 2017 vehicles sold, it would total over $126 million.
Most law enforcement agencies spend time idling the engine so the radios, lights and computers receive power. That's what makes a hybrid powertrain the perfect complement to a police department. With a hybrid, the gas engine shuts down and the electrical equipment receives power from the lithium-ion battery instead. As a result, the gas engine runs merely when the battery needs recharged.
On the Roads Soon
Considering the Ford Police Interceptor Utility has continued to grow in sales for five consecutive years, we expect to see many of these on the road in the future. The 2020 Ford Police Interceptor Utility comes with over $2,000 in standard equipment. This includes Bluetooth, two-years of Ford Telematic service, LED headlamps, Class III trailer-tow bar and four programmable steering wheel switches.
The 2020 Ford Police Interceptor Utility is currently available to order, but they won't be delivered until the summer of 2019. We'll share more information as we receive it.
Other Recent News from Ford
2019 Ford Ranger is the Leader in its Class
Ford F-150 Ad Puts Ram 1500 & Chevy Silverado In Their Place