The 2020 Ford Transit van is going to get an update in styling, some new configurations and additional comfort. The critical updates include a standard ten-speed automatic transmission and available all-wheel drive. Let's take a closer look at what we can expect with the new Ford Transit.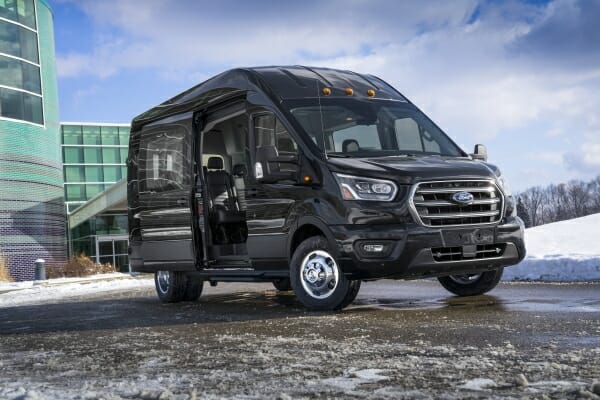 2020 Ford Transit Van Power Options
The updated model will come with a new engine house. In fact, only the 3.5-liter EcoBoost V6 will continue on. A naturally-aspirated 3.5-liter V6 will take the place of the existing base engine to replace the port-injected 3.7-liter. We expect about 300 horsepower and 280 pound-feet of torque out of this motor. This is also paired with the 10-speed automatic.
One of the new engines will also be a diesel engine. It is a 2.0-liter turbo diesel I4 option to replace the 3.2-liter Power Stroke I5. This small diesel is the same found in the Raptor overseas. Because of that, we expect about 210 horsepower and 369 pound-feet of torque.
We are also looking at an available all-wheel-drive system for the gas engines. This is able to move 100 percent of the torque to the front axle, when needed. Unlike the Sprinter, this system is optimized for inclement weather. In addition, the ride height and ground clearance remain identical to the rear-wheel-drive Transit.
Other Features Included in the Ford Van
What's most exciting is the long list of upgrades that come with the Ford Transit. Expect a standard 4G LTE Wi-Fi hotspot to appear as well as automatic emergency braking, automatic high beams, post-collision braking plus lane-keeping assist. Other available features include blind spot monitoring, adaptive cruise control, split-view front and rear cameras, pedestrian detection and parking assist technologies. Customers also gain access to an optimal power-sliding door on both the cargo and passenger van.
In addition, we expect the SYNC 3 infotainment system, some interior storage, available HID headlamps and a new front fascia. The Transit will also come with a crew van configuration which features two rows of seats plus a large cargo area. Another configuration includes the three-seat front row as well.
We expect to see the Transit passenger and cargo van later this year along with the 2020 Ford Explorer. We will have more detailed specs then.