Are you tired of waiting for the new Jeep truck? So are we! The wait is officially over now that the 2020 Jeep Gladiator has debuted at the 2018 LA Auto Show.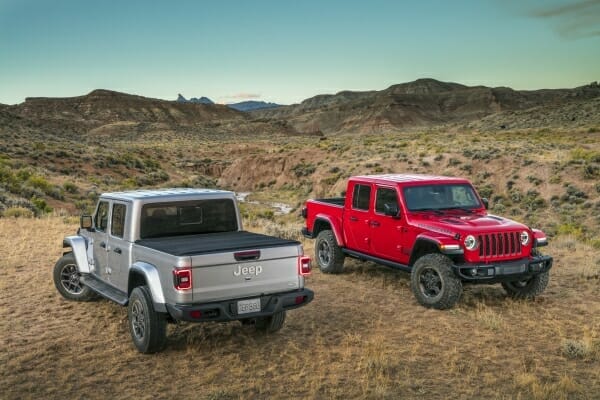 Worth Waiting For?
Now that the 2020 Jeep Gladiator made it into the market, it ends two and a half decades without a Jeep pickup truck. It comes with several options that should make fans pretty excited.
Under its hood, you'll find the 3.6-liter V6 engine standard. There's also the option of adding a 3.0-liter Ecodiesel V6 paired with an eight-speed automatic or choose the six-speed manual transmission instead. Supposedly, it should come with 7,650 pounds of towing capacity, which isn't too shabby!
This Jeep truck still utilizes doors that come off plus there's a soft top option. If you add on the Rubicon package, you'll have more off-road fun. This helps drivers feel like it's a typical Jeep 4×4.
Just like with the Wrangler, this Gladiator comes with many driver assistance features. These include blind-spot monitoring, a rear backup camera, rear cross path detection, adaptive cruise control plus an off-road camera. Inside the cabin, you have access to one of the three UConnect infotainment packages which include either the 5, 7 or 8.4-inch screens.
Now that we know the official name of the Jeep pickup truck and we've gotten to see it, the excitement finally became a reality. If you want to look at it for yourself – make sure you get to the LA Auto Show.
Other Than The 2020 Jeep Gladiator
If you want to see some other amazing displays at the show, here are a few you'll want to watch for.
2019 Nissan Maxima
2020 Kia Soul
Audi E-Tron Concept
2020 Mercedes AMG-GT R Pro
Cadillac Escalade Sport Edition
2020 Hyundai Palisade
2020 Toyota Corolla Hybrid
and so much more!
Let us know what you're most excited about and then stay with us at Car Blog Writers for all the latest updates from the event.