Edmunds, the online car sales and review site, just awarded the 2020 Kia Telluride the Top Rated Award. The Kia SUV achieved this honor with its practical features, pricing and unique style. Read more of the great highlights below that made this vehicle a winner.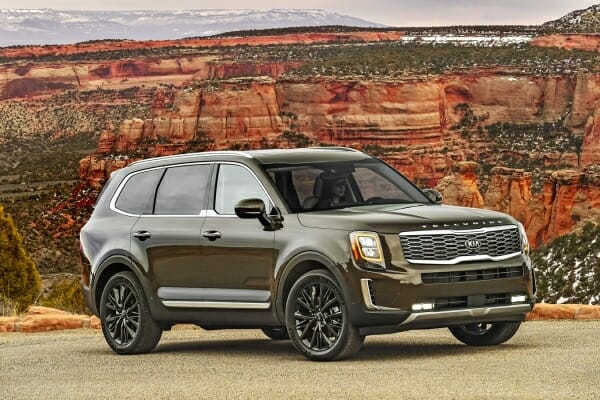 2020 Kia Telluride Wins SUV Category
The Kia SUV is designed and produced for the US market. With the Telluride's eight-passenger seating, this SUV is the largest SUV ever made by Kia.
The 3.8-liter V-6 engine produces 291 horsepower. It pairs to an 8-speed automatic transmission. The SUV also comes with more features like on-demand all-wheel drive and a self-leveling suspension. Therefore, the Kia Telluride makes an excellent vehicle for people with a busy lifestyle.
The Telluride for 2020 has off-roading looks and a lot of cool exterior and interior features. Also, the hood has a long and low appearance with a unique grille, an upright windshield and stacked headlights. Plus, the interior features lots of room, so your ride can be relaxing. In addition, there is a wider console made with top-of-the-line materials in the cabin.
Check out all of the cargo room included with this SUV. Behind the rear seats, occupants have access to 21 cubic feet of room. By putting down the third row, there is 46 cubic feet instead. For complete versatility, put down all of the back seats and utilize 87 cubic feet of cargo room.
How Do You Feel about the Telluride?
What do you think about the new Kia Telluride? Do you think it deserved the 2020 Top-Rated Award or do you think another vehicle should have earned the honors? Let us know in the comments below.
If you want to see more of Edmund's featured vehicles, you can head over to their awards page. For more information about what this automaker is up to, check out the concept Kia pickup truck.