The 2020 Porsche Cayenne Turbo S E-Hybrid is set to impress. It features 670 horsepower and 663 lb-ft of torque. That enables it to reach 60 mph in a mere 3.6 seconds. Can you say WOW?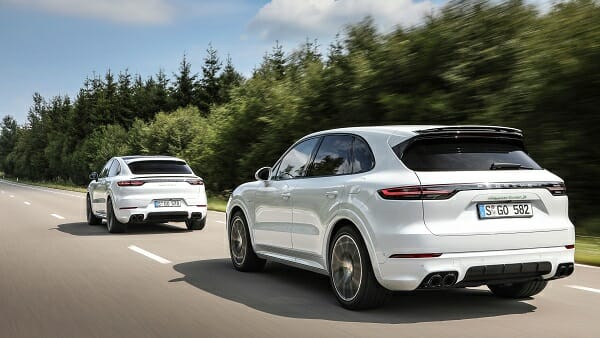 2020 Porsche Cayenne Turbo S E-Hybrid Performance
The Turbo S E-Hybrid borrows the 4.0-liter twin-turbocharged V8 and supplements it with a 134 horsepower electric motor. There's also a bunch of performance enhancements as optional equipment. Consider the ceramic-composite brakes and Dynamic Chassis Control. There are even active roll stabilization and electromechanical stabilizer bars in the front and rear.
Of course, this is all going to cost you. Expect to spend $161,900 on the Cayenne or $164,400 on the Cayenne Coupe.
High-Class Luxury
While it's easy to focus on the performance of this Porsche, we must also take a moment and look at the luxury. Both Cayenne models feature 18-way adaptive sport seats and 21-inch wheels. The Lightweight Sport Package comes with a carbon-fiber roof, 22-inch wheels, side skirt extensions, Sport Design bumper and an Alcantara steering wheel.
There's also a Cayenne E-Hybrid model available. It comes with a 3.0-liter turbocharged V6 with some electric features. This system outputs 455 horsepower plus 516 lb-ft of torque. With this power, it hits 60 mph in under five seconds. It comes standard with a panoramic sunroof. This model has a lower price tag at just $86,400 when it arrives early in 2020.
Another impressive vehicle in the works is the 2020 Porsche Taycan Turbo. While it's not a hybrid model, it offers a lot of pep worth talking about. If you are a fan of hybrid vehicles, don't forget to catch up with our  2019 Hybrid SUV & Crossover Lineup and the 2019 Hybrid Car Lineup.
Let us know your thoughts on the latest Porsche developments. Are these SUVs you would splurge on, or is the price simply too high for the product? Leave a comment.