After telling you about the 2020 Chevrolet Silverado HD, we've taken our first look at the 2020 Ram Heavy Duty and are quite impressed. Now we have an idea what to expect with the newest lineup.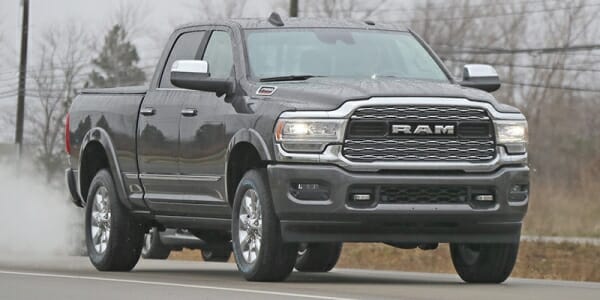 Updates to the 2020 Ram Heavy Duty
The styling gets an overhaul in the 2020 Ram Heavy Duty. It features a larger front end, forward-leaning grille and a larger front clip than the 1500.
Just like the 2019 Ram 1500, the Heavy Duty ditches Ram's signature crosshairs grille. Each trim will receive its own design. The Bighorn receives a black plastic mesh with silver RAM logo. Then, the Laramie receives a billet-inspired grille and chrome shell. At the top of the line, the Ram Limited comes with a chrome mesh and signature nostrils. For off-road enthusiasts, the Power Wagon provides an open-element design and mesh surrounding.
The bed features a heavy-duty steel construction. Then, they've worked hard to trim weight in the tailgate plus used an aluminum hood and door skins. We expect to see the same powertrain options: 5.7-liter HEMI V8 producing 383 horsepower, 6.4-liter HEMI sending out 410 horsepower and the Cummings turbodiesel I-6 which makes 410 horsepower.
Some Good News
It looks like the Ram Heavy Duty will also have an available six-speed manual transmission. This is good news for those who like to be in control. Of course, this option only looks like it will be available with the lower-output model that features a Cummins with 350 horsepower.
All in all, we are most excited about the Power Wagon. It's capable and offers the Articulink front suspension. It also comes complete with a 12,000-pound Warn winch attached to the front bumper. In addition, this truck will have locking differentials in the front and rear. This next-generation off-roader is going to set itself apart from the predecessor.
The 2020 Ram Heavy Duty will be seen at the 2019 North American International Auto Show held in January. We will have all the news from Detroit as it happens, so stay tuned to Car Blog Writers.