If you love hybrid cars, then you've probably heard of the Toyota Prius Prime. It's one of the most efficient from the automaker and also comes with the most tech features. Thankfully, plans have been released for the 2020 Toyota Prius Prime that includes the fifth seat. Don't know what we are talking about? Let us fill you in.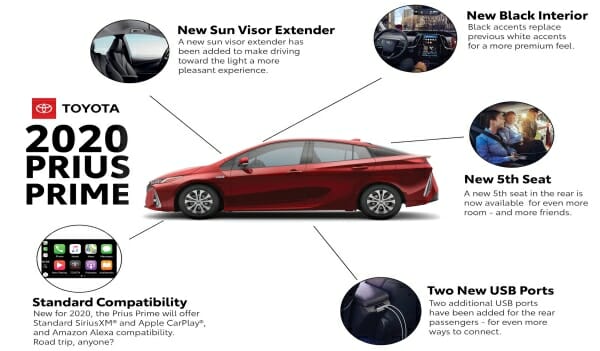 2020 Toyota Prius Prime & Its Fifth Seat
Just last week, the Japanese automaker released data for the 2020 model update. There are some high-tech features such as additional USB ports, Apple Carplay plus new black interior accents. All of that is great, but enthusiasts are more excited about the five seats.
By now you are probably wondering why the four-door sedan didn't already have five seats. Actually, models before 2020 all featured four seats and a section with two cupholders instead. At the time, the company did it for efficiency. To put three people in the backseat, the vehicle's charger would have needed to be relocated. Plus, the car would have required additional material for reinforcement.
So, the fact that the Prius is now fuel-efficient and maximizes the number of occupants is pretty amazing. After all, what's the point of maximizing your efficiency if you cannot adequately carpool.
Why The Change?
It's apparent that consumers were unhappy about the missing seat. After all, Toyota seems to have overcome some hurdles to add it. Overall, they've basically admitted that they failed on previous models, don't you think? Well, the Prius owners can rejoice because they will receive their beloved back seat soon enough. Likely, that won't make them happy anyway and there will be a whole mess of drivers that cry for the cupholders back. You know how it goes.
If you are a fan of hybrid vehicles, don't forget to check out the 2020 Toyota Corolla Hybrid as well. The fuel economy is comparable to a Prius.