Plans for the 2021 Chevrolet Colorado allow the same design as the current model, except for some minor updating. A mid-cycle refresh includes a minor facelift and doesn't contain enough change to become a mid-cycle enhancement. We expect the following with an update to the 2021 Colorado.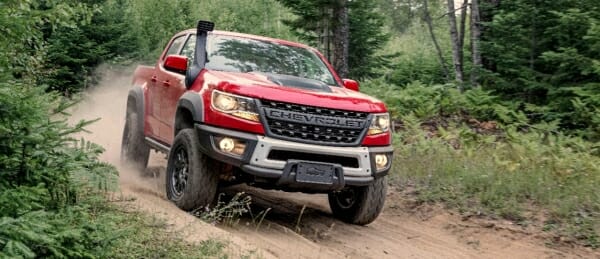 Powertrain
The new Chevrolet Colorado refresh comes with an updated powertrain, possibly through introduction of a new engine: the GM 2.7L L3B TriPower engine. This would be an upgrade from the 2.5L I-4 LCV engine available in the 2020 Colorado.
Body Styles
The 2021 Colorado will continue to offer these cab and bed options:
extended cab, long box
crew cab, short box
crew cab, long box
We currently see all of these options with the 2019 Chevrolet Colorado as well.
Additional 2021 Chevrolet Colorado Updates
We expect a revised exterior, with a style similar to the Chevy Colorado ZR2 AEV concept. The interior should be refreshed throughout. There will most likely be changes to the equipment group structure in the Colorado. Additionally, another trim – the ZR2 Colorado Bison – may be introduced above the ZR2.
Some other features that are rumored to be introduced include the addition of a sunroof, as well as having a push-button start unit. We also plan on some changes to the High Country or LTZ trim levels. The engine choices would include not only the new GM 2.7L Turbo L3B inline four-cylinder, but also the existing 3.6L V-6 LGY gasoline engine and the 2.8L I-4 Duramax LWN diesel engine. It will also have the new GM 10-speed automatic transmission on specific models and trims.
Final Thoughts
Overall, the changes to the 2021 Chevy Colorado won't result in a dramatically different looking truck. However, it all works together to improve the vehicle's comfort and performance. If you want to see more new Chevy vehicles hitting the marketplace, make sure you check out the 2020 Chevrolet Trailblazer.