Everyone was excited to see GMC Sierra's Multi-Pro tailgate and it's been a big hit. Now, we've received news that there will be a new Chevrolet Multi-Flex Tailgate option for the 2021 Silverado. Based on initial reports, this Chevy truck tailgate will work exactly like the GMC Multi-Pro option, but it has its own name.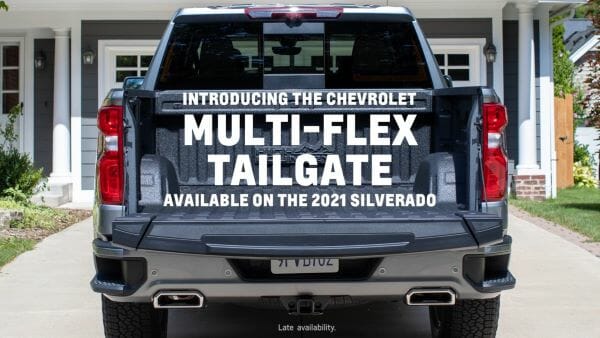 2021 Chevrolet Silverado Multi-Flex Tailgate
So, when can we expect to see this new tailgate for the Silverado models? For now, Chevy states that it will be available to add to Silverado trucks early in 2021. However, the 2021 Chevy Silverado debuts next week, just without the new tailgate.
Based on the initial release video, it looks like the Chevy tailgate will be available on the Silverado High Country, but we might see it with other trim levels as well. It could even be standard equipment with some trim levels.
Take a look at the video for yourself.
Are You Ready for the New Silverado?
We expect several other updates to the 2021 Silverado. What we are most excited about is the addition three new editions: All Star Edition Plus, Texas Edition Plus, and LTZ Premium Texas Edition. These are also being referred to as packages by some dealers.
You will be able to apply these packages or editions to the following trim levels: LT, RST and LTZ. What these new additions bring to the Silverado lineup is an easier ordering experience. It's possible to get the Chevy truck you want without a lot of hassle.
The only question is – are you going to order one right away, or wait for the Multi-Flex Tailgate? We would love to hear your thoughts about the latest tailgate upgrade. Is this a truck you can see yourself in? More information about the Chevy truck lineup is just around the corner.