On Tuesday, the all-new 2021 Chevy Tahoe debuted online as a Tahoe Police Pursuit Vehicle. This vehicle will be the lastest option for law enforcement from the Chevy brand.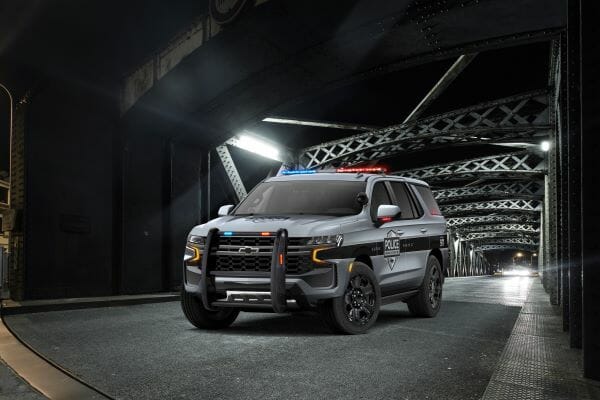 2021 Chevy Tahoe PPV Specs
The general public loves the new Chevy Tahoe design, and the vehicle is suited for police duty. The Tahoe Z71 trim is more rugged than the base Tahoe design with a bull bar that includes built-in lights that go with the emergency light on top of the vehicle. 
The automaker made specific changes to this model to be sure it would meet police officers' needs. The 2021 Chevrolet Tahoe has larger seats so officers can fit with their utility belts. Plus, the SUV also comes with all-season tires, the rubber used was manufactured by Bridgestone and tested at different race tracks to ensure they are durable. 
This new 2021 Tahoe PPV will be paired with a 5.3-liter V8 engine. To help improve ventilation, the same rocker covers are used from the Camaro ZL1. Plus, the manufacturer used heavy-duty cooling systems for the vehicle. 
If you dive deeper into Chevy's engineering, you'll see that the height of the vehicle is shorter than the model being sold to average customers. Consequently, this design improves the aerodynamics. They also made a unique suspension for the PPV vehicles to reduce body roll. 
Some other things that come with the vehicle include a heavy-duty clutch, an enhanced limited-slip differential and Brembo brakes. The Chevrolet Tahoe has a top speed of 140 mph and there is also a Special Service Vehicle program that helps with towing and off-road needs. 
While style and speed are essential, there are plenty of comforts for our officers, as well. These include a 4G LTE Wi-Fi and a rearview camera, which will make things easier for K9 units because it's usually hard to see out the rear mirror. 
Would You Drive This New Tahoe?
The 2021 Chevy Tahoe PPV is only available for law enforcement purchases. If you are a police officer, you might get the chance to drive this 2021 Tahoe. Otherwise, we recommend checking out the Chevy Suburban instead.