It wasn't that long ago that the 2020 Ford Police Interceptor Utility was rated as the Fastest Cop Car in America. Now, we have some exciting news about the release of the 2021 Ford F-150 Police Responder models.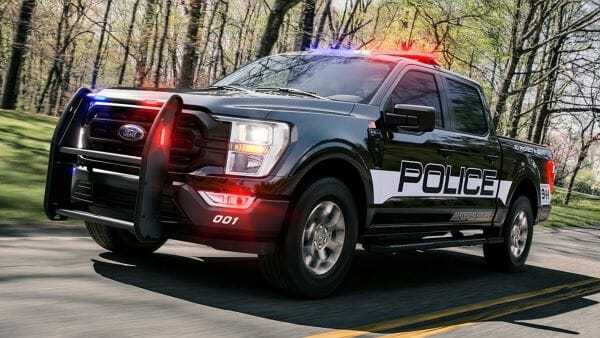 Release of the 2021 Ford F-150 Police Responder
This new police department pickup is rated for pursuit, but the features are what make it truly stand out. The conventional keys are removable while the truck is still running, so the powered equipment and lights continue working without a thief having access.
When the Ford F-150 hits the market this fall, it will come with many other law enforcement-geared features.
2021 Ford F-150 Police Responder Specs
This cop-focused F-150 comes as a SuperCrew model with four doors. Under the hood is a 400-horsepower 3.5-liter that gives it plenty of momentum. Plus, it comes with four-wheel-drive with a full-time Auto setting for travel across any surface. Additionally, Ford included the FX4 off-road package, with underbody protection and an upgraded suspension.
Inside the truck, you will notice the heavy-duty upholstery made to go the long haul. Plus, there are steel intrusion plates on the seats to prevent sharp objects and knives from getting to officers. If the department prefers, the truck can be ordered without a center console, making it easy to customize a specific installation.
This Ford pickup is rated with a 7,000-pound towing capacity and 2,030-pound payload capacity. However, adding the towing package with the backup assist feature increases the towing capacity to 11,200 pounds.
While Chevy and Ram both have police trucks, neither of them is pursuit-rated like the F-150.
Which Truck Do You Prefer?
Are you a Ford, Chevy or Ram fan? While we don't have a preference, you can't argue about the good looks of the F-150 police truck and the capability. It will be interesting to see how many departments swap out their fleet.