One of the most talked-about ads in the Super Bowl was for the 2021 Genesis GV80 starring Chrissy Teigen and John Legend. This showcases Genesis's first crossover and is expected to be the next big thing. Hyundai, Genesis's parent company, first launched the brand with a lineup of sedans, so no one expected this.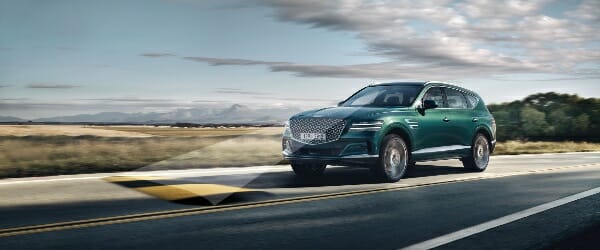 2021 Genesis GV80 Specs
You can use the automaker's build-your-own tool to configure the vehicle just the way you want it. We don't have the starting price yet; however, we have the details for color options, features, trims and extra packages.
The turbocharged 2.5-liter inline-four engine is the standard choice on the 2021 GV80. You can get this vehicle with all-wheel or rear-wheel drive. All of the new Genesis GV80s come with a ton of features such as a 14.5in display, power front seats, power liftgate and heated front seats.
If these standard features aren't enough for you, the top-of-the-line Prestige package comes with soft Nappa leather, 22-inch wheels, soft-close doors, cooled second-row seats, head-up display and an upgraded audio system. We should also mention that a few of these features are included in some of the lower packages as well.
As far as colors go, there are a lot of choices. We see dark blue metallic, dark green metallic, matte white, burgundy, gold, matte green, matte gray, metallic gray, black and more. We're not sure which of these colors will be sold in the US yet.
A fully loaded GV80 should cost close to $65,000. Which means it should compare to the BMW X5 and the Mercedes-Benz GLE-class.
Check out the New GV80
Test drive this new GV80 when it arrives and let us know what you think. Also, if you didn't get the chance to see the Super bowl ad about this vehicle, check it out.
If you would like to know more about what Genesis is up to, read about the Genesis Essentia EV Coupe.