The current Honda Ridgeline doesn't look much like a truck, but the automaker hopes to change that. With a first look at the 2021 Honda Ridgeline, you will see the new plans to make it look more like a capable truck.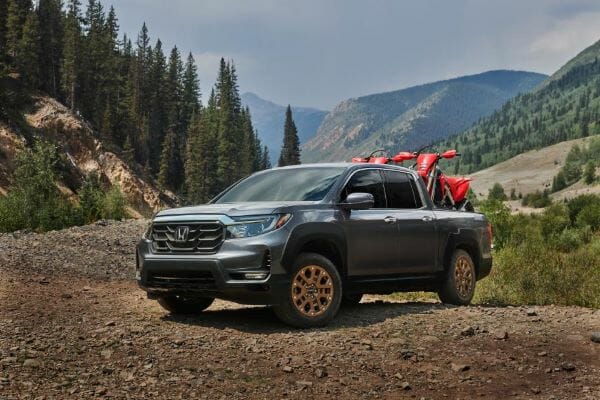 2021 Honda Ridgeline Updates
Recently we talked about the 2021 Honda lineup, but at the time, we didn't have information about the Ridgeline. Now, we have some updated information.
Current Ridgeline models share a platform and design with the Pilot SUV. However, a recent makeover adds more truck style. New models will have a large, upright grille, a bulging hood and flatter, taller front fenders.
However, there is a lot about this Honda pickup that remains the same. It carries over the same 280-horsepower 3.5-liter V6 engine, plus the option to choose front- or all-wheel-drive.
Inside the cabin, owners find a lot of the same equipment. However, there is new trim, plus an updated infotainment system.
This Honda Ridgeline also has a different tailgate and in-bed trunk that is opened traditionally, or as a door. This is a standard feature, along with the many driver-assist aids, such as adaptive cruise control and automatic emergency brakes.
There are no other unibody pickup trucks available on the market right now. However, the Ridgeline comes in second to last place as far as midsize truck sales, only ahead of the GMC Canyon. With that said, we expect to see some smaller pickups coming from both Ford and Hyundai, starting next year.
Would You Buy a New Ridgeline?
While we don't know pricing yet for the new Ridgeline, we expect it will be comparable to 2020 models, which starts at $33,900. Is this a price you are willing to pay for the redesigned Ridgeline truck or do you like the current styling better?
We would love to hear your thoughts.