U.S. News & World Report has released its list of the 2022 Best Cars for the Money. Some of the winners might surprise you, but the majority of them were expected. Let's take a closer look.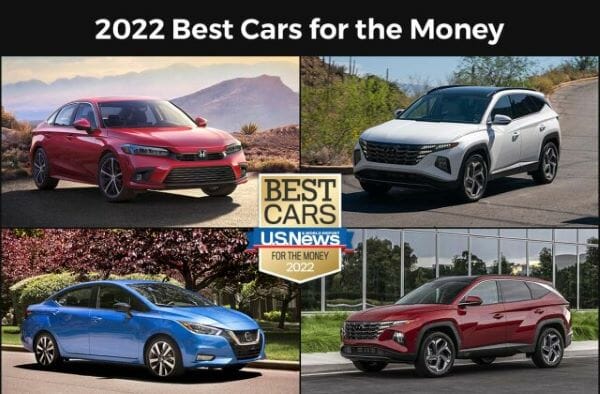 2022 Best Cars for the Money
Starting with the car segment, there are a few categories worth looking at.
Subcompact Car: 2022 Nissan Versa
Compact Car: 2022 Honda Civic
Hybrid/Electric Car: 2022 Hyundai Elantra Hybrid
Midsize Car: 2022 Honda Accord
Large Car: 2022 Toyota Avalon
As far as the cars go, it seems Honda takes the top spot, with the Compact and Midsize segment under its belt. However, a few years ago, Honda would have swept many of the awards, which lines up with how customers have felt the brand is going downhill. You will notice that they are absent from the SUV awards as well.
2022 Best SUVs for the Money
These segments are among the most popular right now, so let's see who won.
Subcompact SUV: 2022 Hyundai Kona
Compact SUV: 2022 Hyundai Tucson
2-Row SUV: 2022 Hyundai Santa Fe
3-Row SUV: 2022 Kia Telluride
Hybrid/Electric SUV: 2022 Hyundai Tucson Hybrid
Minivan: 2022 Honda Odyssey
It's become clear that cost-conscious shoppers are going to want a Hyundai model. From all of the advanced driver assistance systems offered on these models to the extreme levels of comfort provided, it's hard to find a better deal. Plus, these vehicles are going to retain their value, ensuring you get top dollar when you are ready to sell.
What Models are Your Top Choices?
Are you in the market for a fuel-efficient compact car as gas prices rise? Or, would you rather have room for the entire family to spread out? We would love to hear abotu your favorite model. Whatever your lifestyle requirements are, you can choose the best cars for the money. Make wise decisions to protect your investment and ensure complete on-road satisfaction.