Due to increasingly strict emissions rules, the 2022 Ford Mustang losing a little bit of power. Both the Mustang GT and the Mustang Mach 1 will have less horsepower than the 2021 variants, even though they are powered by the 5.0-liter V8 engine.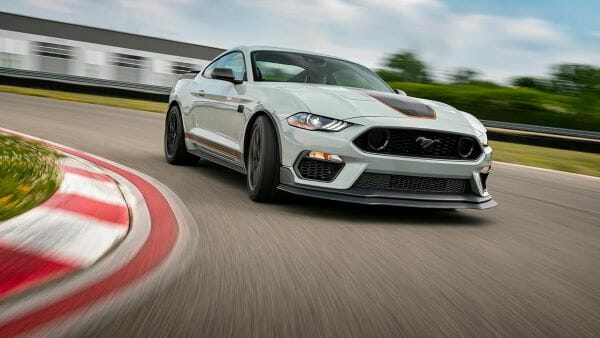 Drop in 2022 Ford Mustang Power
The change can be found in the dealer ordering system. New GT models take a dip from producing 460 horsepower to 450, while the Mach 1 was rated at 480 horsepower and now shown with 470. In addition, both models showcase a moderate reduction in torque as well. So, why is this happening? Here's a statement from Ford.
To meet more stringent LEV III regulatory emissions requirements, horsepower and torque have been reduced by 10 hp and 10 lbs.-ft. for 2022 model year Mustangs with the 5.0-liter V8 engine.
Previously, the Mach 1 motor was the most powerful variant of the 5.0-liter V8 every offered by Ford. However, there are no changes coming to the 760-horsepower 5.2-liter supercharged V8 found in the Mustang Shelby GT. This model remains unchanged going into the 2022 lineup.
Other Brands Follow Suit
It's clear to see that emissions standards are getting stricter because Ford isn't the only automaker changing lineups. Chevy recently returned the 6.2-liter V8 engine in the Corvette to meet the new standards. However, there was no drop in horsepower with these tweaks. On the other hand, Dodge wasn't quite as lucky when dealing with the 710-horsepower Durango SRT Hellcat. Instead of trying to make the engine work, the vehicle was discontinued. You can only purchase the Durango SRT Hellcat as a 2021 model year vehicle.
What other changes will be made to our powerhouse favorites down the road? Only time will tell. As rules become stricter, we will likely see some other models fall our of the lineups. We have to become accustomed to less power if we desire fewer emissions. Maybe they should all be revamped with a DIY electric car kit instead.