Get ready for a new addition to the 2023 Ford lineup. A new off-road option is coming to the truck lineup – introducing the 2023 Ford Maverick Tremor. The Maverick is the final truck model to get the Tremor package, so it's been highly anticipated.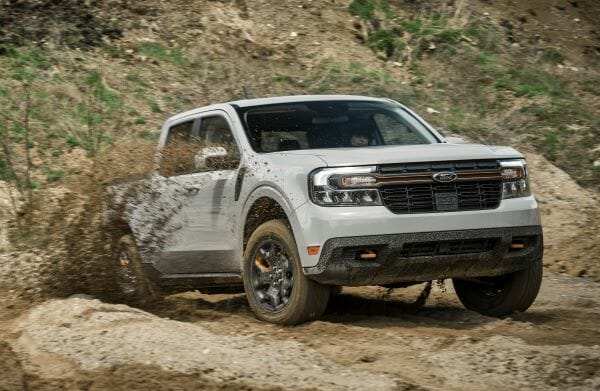 What's Included with the 2023 Ford Maverick Tremor?
The new Maverick Tremor includes 17″ wheels wrapped in all-terrain tires. It also has a fully independent suspension that increases ground clearance to 9.4″ (an inch higher). Under the hood of the Ford Maverick Tremor, you'll find the 2.0L turbo-four pushing out 250 horsepower. Sadly, it doesn't come with the hybrid powertrain option. However, it does include an advanced all-wheel drive system, the same as with the Bronco Sport Badlands model.
What's best about the new Maverick model is that it won't break the bank. It's considered a budget-friendly truck that provides plenty of adventure. With the superior fuel economy of 24 mpg combined and the increased ride height, you have everything you need to enjoy the open road. However, it does only tow up to 2,000 pounds, which is much lower than the max rating of 4,000 pounds for other Maverick trims.
Is The Maverick Tremor Right for You?
There's no question that the 2023 Maverick Tremor is rugged-locking and exciting. It's also not expensive, so you don't have to choose between a mortgage payment or a truck. However, it's not going to have the same capability as the Ford F-150 Tremor or Super Duty Tremor. If you need more than mild off-road manners, you may prefer one of the bigger Ford trucks instead.
You may even find yourself getting more excited about the new Ford Lightning, the automaker's electric truck. To find out what's best for you, we recommend visiting a local dealership and test driving the trucks for yourself. Discover which new Ford feels right for you.