What the world needs is a three-row off-roading machine. Thankfully, we don't have to wait much longer for this dream to become a reality, thanks to the 2023 Nissan Pathfinder Rock Creek Edition. This off-road Pathfinder was recently debuted and it's ready to navigate the toughest paths.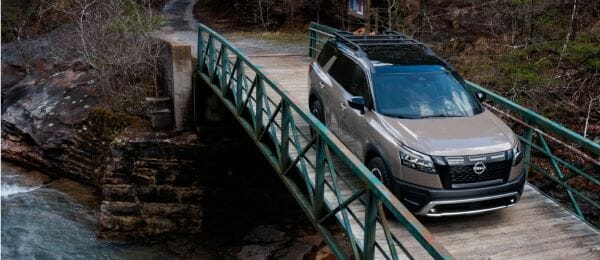 Examining the 2023 Nissan Pathfinder Rock Creek
The new Pathfinder Rock Creek arrives at dealerships starting this summer. Until then, we have some news to share about the most capable off-road version of the popular Nissan SUV. While it does still contain three rows for your entire family, this model is outfitted with all-terrain tires on 18″ wheels. It also features an off-road tuned suspension, along with a 5/8″ increase in the ride height, bringing it to more than 7.8″ total.
Standard with every Rock Creek Nissan Pathfinder is a tubular roof rack capable of holding 220 lbs, so all of your gear can go with you. Additional standard equipment includes a tow hitch and 360-degree camera system. Furthermore, the regular 3.5L V6 pumps out 295 horsepower instead of 284 horsepower, as long as you use premium fuel.
Inside the new Pathfinder off-road SUV, you find plenty of style. The unique upholstery design and orange complementing accents help it to stand out from other models. Plus, the interior features Rock Creek badging for a great finish.
Getting a New Pathfinder
You can't see the Pathfinder yet at dealerships, but it will be on display at the New York International Auto Show. We also don't have the pricing for it yet, but expect more details to be available soon. While we are discussing off-road vehicles, have you ever thought about taking a minivan down the trail? With the Toyota Sienna Woodland Edition, you might be able to.
Let us know your thoughts on these family-friendly off-road models. Is it something you would consider buying?