Welcome to the future, Audi enthusiasts. The All-Electric Audi AI: Trail Quattro is a concept SUV, built for off-roading. It recently debuted at the Frankfurt Motor Show, and it looks amazing.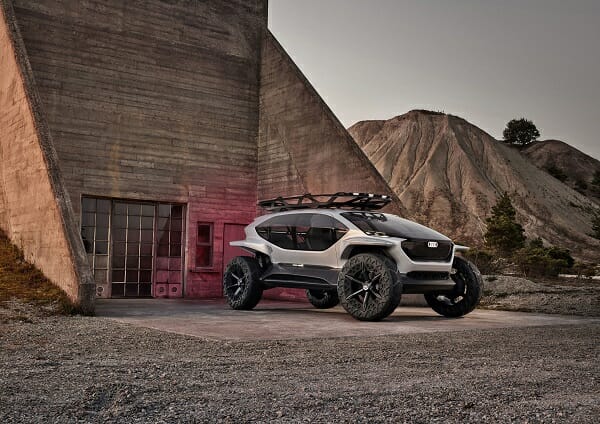 All-Electric Audi AI: TRAIL Quattro Performance
The AI: TRAIL has four electric motors and a battery. The motor pumps out 429 bhp with 1,000Nm torque output. This battery has a range of 310 miles on-road and 155 miles off-road. The maximum speed that the TRAIL will be able to reach is 81 miles per hour. It sits on top of huge 22-inch wheels and 33.5-inch tires made for off-roading. It should be able to power through water that is over 1.5 feet deep.
Audi has its sights set squarely on the future with the AI: TRAIL. Fittingly, it will be autonomous or self-driving. It should be able to fully control its movements on its own. However, a steering wheel and pedals will still be installed so that drivers can drive it if they choose to. It also has a very light weight for the type of vehicle it is: less than 4,000 pounds.
Design & Interior Features
The Audi AI: TRAIL looks like something out of a science fiction movie. Its huge wheels and large areas of glass give it a bold look. The tires also feature self-adjusting air pressure sensors. These sensors will control the air levels in the tire based on road (or off-road) conditions.
The interior comes with all of the latest technological innovations. We expect it to have informational consoles on each side of the steering wheel, as well as a holder for phones.
Also, there should be plenty of cargo space within the car and in the trunk.
Overall, the Audi AI: TRAIL looks stylish and intimidating: a beast that has come back from the future.
If you are a fan of Audi, don't forget to check out the 2020 Audi R8.