Almost a year ago, we told you about the all-electric Mercedes EQC. It's a step toward zero-emissions from the luxury automaker. As of now, it's set to arrive in 2022 but has now been seen on the roads for testing.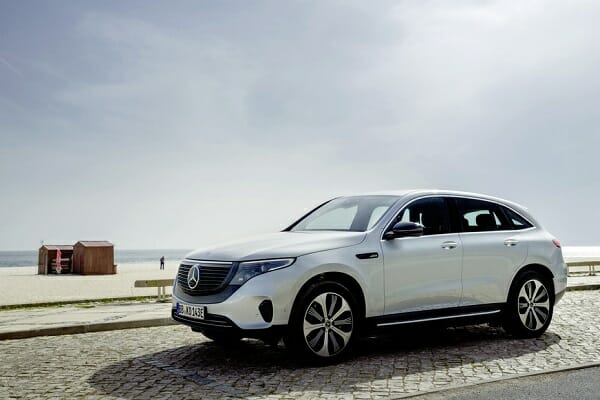 All-Electric Mercedes EQC Specs
The electric Mercedes features a new platform that is the basis of all future EQ cars from the company. It's a modified version of the GLC and resembles an Audi e-Tron.
It comes complete with an 80kWh battery and two electric motors. One drives the front axle while the other runs the rear. In total, this SUV features 403 horsepower. It also contains dual-display infotainment plus the digital dial setup. It's the same one found in the MBUX infotainment system on modern Mercedes models.
The interior highlights over 17 cubic feet of cargo space, new vents and copper accents. It's all that a family needs for a leisurely trip and more. Drivers also take notice of the quiet cabin. With a single charge range of 232 to 259 miles, this SUV is quite capable. It's competing against the Jaguar I-Pace and Tesla Model X.
The Maximum Range mode utilizes the on-board cameras and navigation system. It sees the road ahead to provide assistance to the battery pack. Drivers in the UK receive a free one-year subscription to the IONTY network.
Waiting for Updates
EQ stands for electric intelligence and we think Mercedes hits the nail on the head. They've done a fabulous job of creating an electric SUV that appeals to the masses. We can't wait to see this electric crossover in person.
What are your thoughts on the new EQC? Do you think it will hold up against the rivals or be an overpriced SUV? If you plan on purchasing an electric vehicle, let us know what model you're looking at.