If you plan to tow with your truck, you need to consider adding a new set of brakes. There are several factors to consider when looking for the best brakes for towing. You'll want to have maximum stopping power with your truck brakes plus you need to evaluate the price and brake dust produced. That's why we've put together a list of criteria to help you find the right towing brakes for your truck.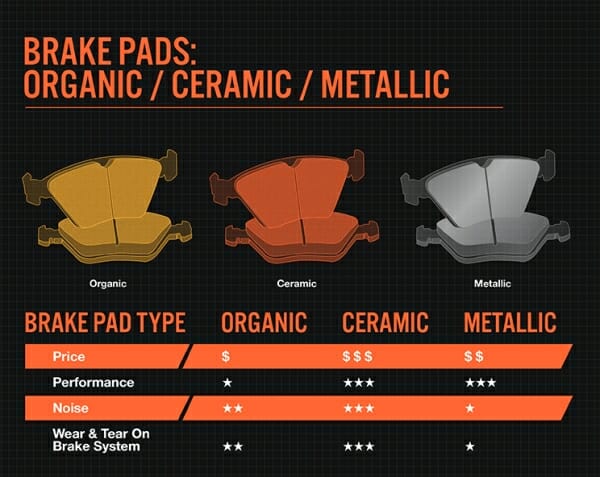 Types of Brake Pads
Before you can make any decision, you need to understand the different types of brake pads that are currently on the market.
Organic Brake Pads
These are also known as NAO or non-asbestos organic brake pads. It contains various fibers that are mixed with binding resins to hold it together. Sometimes, the organic material is carbon, Kevlar, rubber, fiber of glass. It's the least expensive option which is why more than half of modern cars come with them from the factory.
Pros of Organic Brake Pads:
Quiet
Handles heat well
Generate friction
Produce less dust
Low cost
Cons of Organic Brake Pads:
Only operate in a limited temperature range
Wear out quickly
Creates a mushy pedal
Semi-Metallic Brake Pads
Semi-metallic brake pads contain anywhere from 30 to 65 percent metal which consists of copper, iron, steel or other components. The rest of the pad is manufactured from filler plus a graphite lubricant. While they are the most versatile type, they do produce more dust and noise.
Pros of Semi-Metallic Brake Pads:
Increased braking performance
Low compressibility which creates a firm brake pedal
Versatile for many driving styles
Cons of Semi-Metallic Brake Pads:
Noisy
Produce brake dust
Wear brake rotors quickly
More expensive than organic pads
Ceramic Brake Pads
The newest option available is the ceramic brake pad. They are composed of ceramic material that's dense and embedded with copper fibers.
Pros of Ceramic Brake Pads:
Quiet
Produces fine brake dust that doesn't stick to wheels
Long lifespan
Consistent performance
Cons of Ceramic Brake Pads:
Most expensive
Not ideal in cold climates
Don't absorb heat well
Not designed for racing or heavy-duty work
Best Brakes for Towing: Things to Consider
Here are some things we'll want to consider as we search for the best brakes for towing.
Noise and Vibration
You want to measure how much noise and vibration comes from your pads. While there will always be some noise when towing a trailer, you want to keep it to a minimum. However, if you must choose performance versus noise – performance should always win.
Dust Levels
The more dust that is produced, the more that clings to your truck wheels making it appear darker than normal. Again, the dust level should be a fair trade-off if you prefer performance.
Performance
You need to evaluate how the brake pad performs in various climates and conditions. If you plan to tow in dry, muddy or cold environments, you will want to consider that.
Friction
The friction profile tells you how the pad responds to changes in relation to temperature. It measures how much force you need to apply to the pedal to maintain friction and stopping power. Your brake pad should have a predictable friction profile. You want a stable profile out of your performance brakes for high-speed stopping and hill descents.
MOT or Maximum Operating Temperature
This tells you the highest temperature you can use the brake pad at before it becomes unsafe and starts to degrade. Obviously, you need a larger MOT when you plan to tow.
Durability
Examining the lifetime of the pad tells you how long it should last before you need to replace it.
4 Best Brake Systems for Towing
Whether you are towing with your 2018 Ram 2500 or the Chevrolet Silverado 4500HD, we've got the best brakes for your truck. Remember to find the one that fits your pickup as we are just giving examples.
Power Stop Front & Rear Z36 Truck and Tow Brake Kit
Pros:
Durable
Superior construction
Minimal noise
Minimal dust
Comes with everything you need
Cons:

Hawk Performance LTS Brake Pad
Pros:
Reduced noise and dust
Long life
Reasonable price
Superior stopping power
Cons:

Wagner Severe Duty Semi-Metallic Disc Pad Set
Pros:
Low price
Ideal for heavy-duty functions
Exceptional pad strength
Durable
Cons:

Motorcraft Pad
Pros:
Reliable performance
Optimal stopping power
Low price
Reputable company
Cons:
Creates some noise and dust
Final Thoughts
Before you head out on the road in your truck to do some towing, you want to ensure you are equipped with the best brakes. Towing requires additional stopping power so you want to move beyond your factory equipment if you plan to stay safe. Evaluate your needs and then pick from the four best brakes for towing we've outlined above.