After a short visit to New York's SoHo district, the decision has been made for Cadillac to return to its roots. That's right! It's only been three years, but GM announced that Cadillac's headquarters would return to Michigan. Let's take a peek at what to expect when Cadillac moves to Detroit from New York.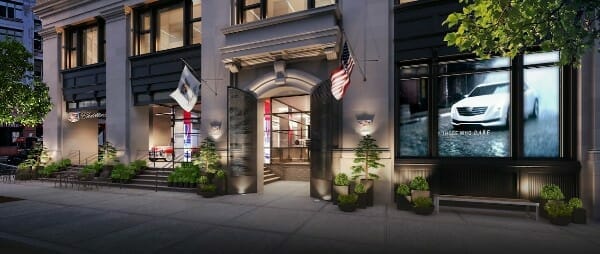 Cadillac Moves to Detroit – Back Home Again
The GM executives got rid of Johan de Nysschen, Cadillac president plus a former Audi and Infiniti executive. They replaced him with Steve Carlisle, who's been a member of GM for life. Then, this past Wednesday, they confirmed that Cadillac will return to Detroit.
This move only further supports their upcoming launch of redesigned or new vehicles every six months until 2020. When Cadillac moves to Detroit, we aren't yet sure exactly where their headquarters will be. Rumor has it that the location will be near the technical center found in Warren, Michigan.
Cadillac's Changing Lineup
Cadillac also announced this week that it would expand the V-Series brand while introducing the new XT4 crossover we've all been waiting for. With the move to Michigan, Cadillac's team will be responsible for new designs, purchasing, manufacturing and engineering roles.
Cadillac will continue to have a presence in NYC through their Cadillac House headquarters, but we're unsure what's to come of the 110 employees currently located there. Some of them will probably relocate over to Detroit, but the company hasn't made any official statement at this time.
Overall, this move helps Cadillac to improve the communication between their team and the GM company as a whole. In fact, Carlisle has been spending most of his time in Detroit anyway, and not New York.
As Cadillac moves to Detroit, we are all actively anticipating the XT4 as well as some other exciting news. We'll also be watching for news on the 2019 CT6 V-Sport, 2019 CTS-V and the 2019 XT5. The 2019 Escalade won't receive an update this year, but we anticipate a redesign for 2020.