A little over a year ago, the Lamborghini Urus stunned the world with its 650-horsepower twin-turbocharged V8 engine. It quickly became the world's fastest production SUV, but it didn't keep the title for long. Now, Bentley responded with their own SUV: the Bentley Bentayga Speed. In fact, this Bentley SUV beats Urus by 0.5 mph.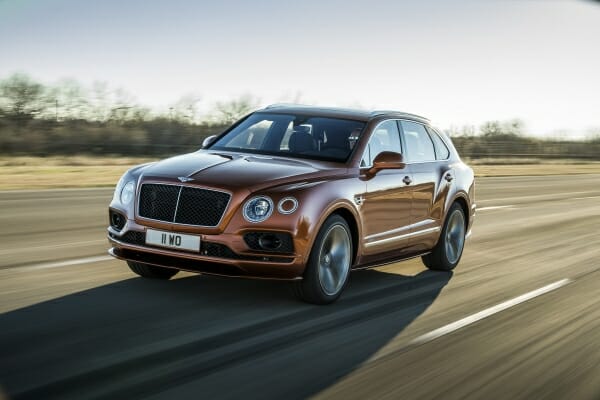 Bentley Bentayga Speed
We wonder how many people that put out $200k last year for the Urus are now regretting their choice. We will get to see the new Bentley Bentayga at the Geneva Motor Show this March and then it will go on sale later in 2019. The twin-turbo 6.0-liter W12 engine pumps out 626 horsepower and 664 pound-feet of torque. This takes it from 0 to 62 mph in a mere 3.9 seconds.
Before we get nasty comments, it is true that the Urus claims a 0 to 62 mph time of 3.6 seconds, but the top speed is only 189.5 mph. In comparison, the Speed hits 190 mph making it the world's fastest SUV. Sure, it would fail a race to 62 mph, but it's still considered the fastest. Go figure.
Fastest SUV in the World
For the sake of moving on with the article, we will agree that the Speed is the fastest SUV in terms of top speed. Aside from that, it's also the most powerful Bentayga made yet. This all-wheel-drive SUV comes paired to an eight-speed automatic transmission. Just like the Lamborghini SUV, there is also a sport mode that enhances the response from the transmission and engine. We might even have to add this SUV to our 10 Best Supercars of 2019 list.
You'll also notice some styling changes such as the tinted headlights plus the aerodynamic spoiler. You can opt for 22-inch wheels, carbon ceramic brakes and a specialized exhaust note. We don't know what the pricing will be yet, but the regular Bentayga starts around $200k just like the Urus so you can bet your bottom it will be more than that.
Overall, this should excite you, whether you agree with the new title or not. As automakers continue to one-up each other, we end up the winner.