Everyone knew it was going to happen. Still, everyone acts surprised. The 2019 Rolls-Royce Cullinan is in such great demand that the luxury automaker needed to increase the staff up to 2,000 employees. At this time last year, they only had 200. If you haven't seen the gigantic Cullinan SUV yet, now is your chance.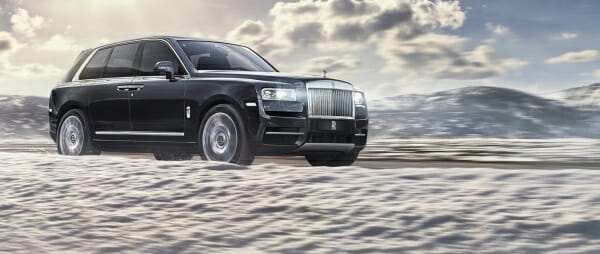 2019 Rolls-Royce Cullinan
This twin-turbocharged V12 SUV has been teasing us for the past five years. Finally, it made its way into showrooms and now the company can't keep up with the demand. As of right now, current orders for the Rolls-Royce SUV won't deliver until July. If you were planning to buy one, you might need to wait a little bit.
The popularity should make the luxury company feel good about themselves. Estimates report that half of the Cullinan buyers are brand new to Rolls-Royce. In addition, it appears that this massive SUV appeals more to women than men. This is good news considering that women make up a larger percentage of SUV buyers. The other thing that is going for them is that this luxury SUV is drawing in a younger customer.
Rolls-Royce in 2018
Last year, Rolls-Royce had a record year, without the Cullinan. In fact, this SUV didn't make it to the dealerships until November. Some of the increase is due to the release of the Phantom back in 2017. With the way sales are going now, the automotive company is set to have another record year for 2019. Of course, they won't sell enough to make our best luxury car list for 2019, but they can try!
In fact, Rolls-Royce Motor Cars Americas projects that the customers who own a Phantom are set to purchase a second car soon. They also expect to sell the Cullinan in record numbers in Canada where they have four dealerships. Last year, the Canadian market sold 100 vehicles, with projected numbers reaching 150 for 2019.
Do you have $325,000 to spend on this SUV? If so, we are pretty sure the 563 horsepower beauty won't disappoint.