This year, the United States received the 2019 Mercedes-Benz A-Class for the first time. While it doesn't come with a manual transmission or hatchback configuration, it will still be the cheapest Mercedes to choose from. This new entry-level car might be a budget-friendly Mercedes, but it still features a starting price of $32,500.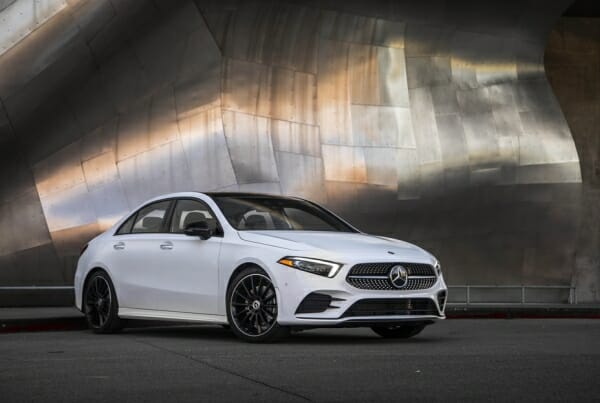 What is the Cheapest Mercedes?
The cheapest new Mercedes starts at $32,500 and features the A220 front-wheel-drive sedan. If you want to upgrade to the A220 4Matic all-wheel-drive model, you are looking at a starting price of $34,500 instead. That's still almost $10,000 less than the C-Class which starts at $41,400.
Aside from that, you can find a cheap Mercedes coupe by opting for the 2019 CLA 250. This is technically a sedan, but Mercedes calls it a coupe and the starting price is $33,100.
2019 Mercedes A-Class Specs
The 2019 A-Class receives a turbocharged inline four-cylinder engine that pumps out 188 horsepower plus 221 pound-feet of torque. It's paired with a seven-speed dual-clutch transmission and 17-inch wheels.
It also comes with the MBUX infotainment system. This features speech recognition, a touchpad, touchscreen and AI which learns the driver's habits over time. This luxury sedan also uses navigation plus GPS data to provide route-based information that adjusts your speed as needed. This helps during turns, when approaching intersections and through hazardous situations. The rear monitoring system on the A-Class recognizes when drivers are in danger of a rear-end collision. In that situation, the car applies the brakes to keep you from rolling forward into other traffic.
The 2019 Mercedes A-Class is new to the United States but has been in Europe since 1997.
The majority of people continue to talk about the Mercedes-Benz EQC (the brand's first all-electric crossover), but we think the A-Class is worth discussing as well. This option as the cheapest Mercedes helps a lot of people get behind the wheel of a luxury car without spending a lot of dough.