At CarBlogWriters, we have covered our fair share of police vehicles, such as the 2021 Ford F-150 Police Responder and the 2021 Chevy Tahoe Police Pursuit Vehicle, but nothing is quite as unique as the new Chevy Bolt EV SSV. Don't underestimate what this little Bolt is capable of. Let's get a closer look.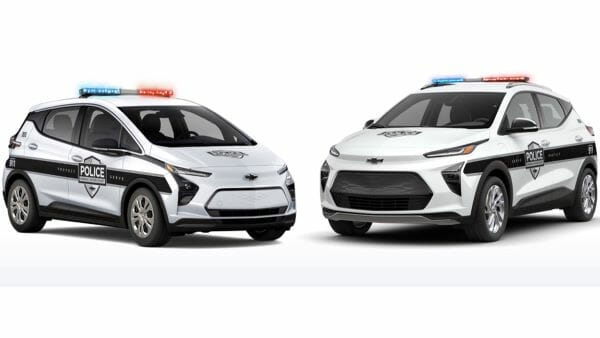 Chevy Bolt EV Special Service Vehicle (SSV)
GM is releasing the Special Service Vehicle (SSV) of both the 2022 Chevy Bolt EV and the Bolt EUV. You can find the vehicles listed within the automaker's fleet ordering system, offers unique provisions for law enforcement.
These electric vehicles come with 20 amp and 30 amp circuits that accommodate accessory lights. Plus, they contain Surveillance Mode, which turns of the illumination with the car still powered on. When you combine this feature with the silent operation of the Bolt EV, you see why it would make a great surveillance model.
Of course, these vehicles are not pursuit-rated, but that doesn't mean they are slow either. The EV hits 60 mph in 6.5 seconds, while the EUV will take 7 seconds. Plus, the EV boasts of a driving range of 259 miles, while the EUV can go 247 miles on a single charge.
GM released a photo of the vehicles, showcasing the black and white design with emergency lights that are hidden behind the windshield and grille. While there is a lot of new technology included in the vehicles, the hands-free Super Cruise driving system will not be made available. However, these vehicles will come standard with lane departure warning and lane keeping assist.
At this time, we don't have the pricing for the Chevy Bolt EV Special Service Vehicle yet, we know it will be more than the standard variations of $31,995 for the EV and $33,595 for the EUV.
Will You See the Chevy Bolt EV SSV in Your Area?
Will your local police force buy these Chevy Bolt EV models? It should be interesting to see how the local departments plan to use it. Shoot us some photos if you see any on the street.