It's not a new thought to convert a classic car to EV. There have been many companies trying to retrofit classic cars with EV drivetrains. While they have found success, it's not a simple process. Trying to find the salvaged EV drivetrain is stressful in itself. If Swindon Powertrain has its way, the process will become much easier. Let's look at their new electric crate motor that should fit into numerous vehicles.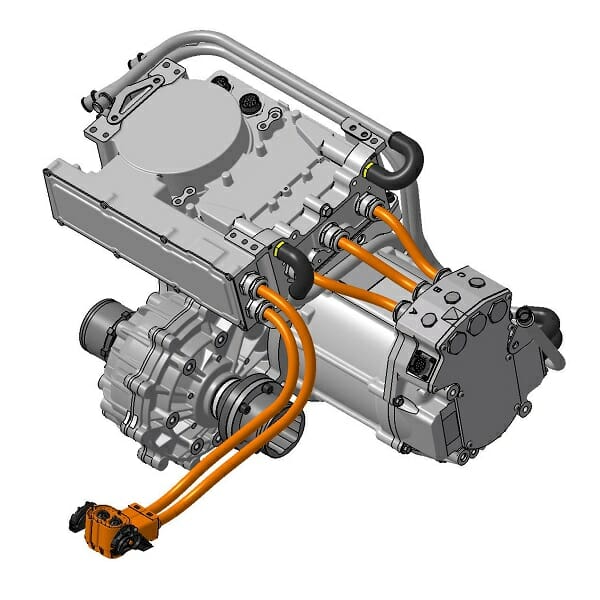 Electric Crate Motor for Your Classic
The High Power Density EV powertrain is compact, yet mighty. It's the same size as the drivetrain used in an EV-converted classic Mini, to give you an idea of how small it actually is. Considering it fits in the Mini, it shouldn't have trouble going under the hood of anything.
This drivetrain measures 23.6″ wide x 17.3″ deep and 11.02″ tall. You can agree that's tiny.
Additionally, it only weighs 154 pounds but produces 110 horsepower. It comes complete with everything needed to upgrade, including:
motor
cooling system
single-speed transmission
power inverter
This drivetrain also includes several mounting points. This allows you to put it on either axle of the vehicle. You can pair it with battery packs from a Tesla, Bolt, Lear or other EV in the junkyard.
Sadly, we can't get our hands on one until June 2020 and we don't know the pricing yet.
At first glance, it looks promising. We would personally love converting some classic cars to electric to keep them running. Imagine sticking one of these engines into an older Beetle. The question is, can you use two in the same car to create more power or all-wheel drive? We don't have the answer to that yet.
More Electric Vehicle News
If you are a fan of EVs, you might be interested to learn more about the upcoming Tesla pickup truck. For something ideal for the urban streets, consider the Super 73-S1 electric bicycle instead. Truth is, there's so much happening in electric vehicle news, it can be hard to decide what to follow first.
Stay tuned to CarBlogWriters to learn more about what's happening.