After sharing that 2019 would be the final year of the Beetle, Volkswagen has laid another bombshell on us. They've reinvested their efforts into creating an electric Volkswagen Dune Buggy. It's a Myers Manx-inspired vehicle and here's what you want to know.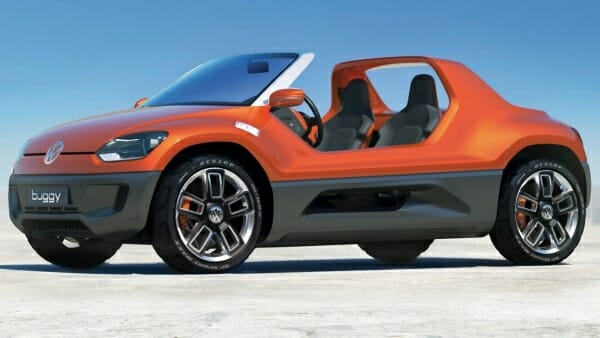 Electric Volkswagen Dune Buggy
You might not know this, but VW has never produced its own dune buggy before. I know what your thinking; you've seen plenty of them. They were created from the Beetle chassis because the body was easy to remove, but Volkswagen was never the company behind them.
Now, Volkswagen wants in on the action and has decided it's time to do it themselves. The new dune buggy would be based on their battery-powered platform that accommodates numerous body styles. It will be used for compact hatchbacks, a classic Microbus styled minivan and now the latest dune buggy creation.
Features on the VW Dune Buggy
Rumors circulated that the open-top dune buggy features oversized tires, a freestanding windshield plus a roll bar. Of course, we have to wait to actually see it to report more. If you remember, back in 2011, VW played around with the idea of creating a dune buggy. It was the gas-powered Buggy Up! Concept that never made it to market.
Of course, Volkswagen hinted at this idea all the way back to last year. Designers at VW said they wanted to bring back some type of open off-road vehicle that would allow consumers to have a good time. The VW dune buggy must be it.
2019 Volkswagen Lineup
There's plenty to look forward to as we await more news of the dune buggy vehicle. In 2019, Volkswagen will continue to offer their Jetta and Passat models. They should fair well considering many other automakers have cut back the production of the car lineup.
In addition, it will be the final year of the Beetle. The Golf is also going strong and returns for another year. Aside from that, we expect a second-generation Tiguan crossover, a second year of the Atlas SUV and the new 2019 Arteon. Volkswagen has certainly diversified their automotive offerings, allowing there to be a car for just about anyone.