Ford hurried deployment of the hands-free Active Driver Assist to 100,000 vehicles by the end of this year. Let's take a closer look at what Ford Active Driver Assist is and what vehicles it will be included in.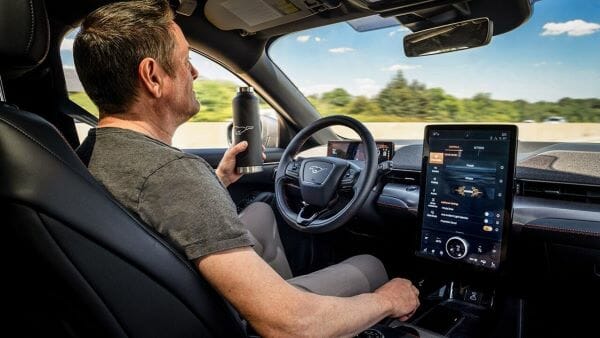 What is Ford Active Driver Assist?
If you know anything about GM Super Cruise, this Ford system is quite similar. It utilizes precise mapping, cameras, sensors and GPS to steer the car in the center of a lane while controlling its speed. Furthermore, facial recognition technology forces the driver to keep eyes on the road. To add more versatility, Ford claims it works while driving on more than 100,000 miles of roadway, with more coming soon.
While vehicles will be delivered with the necessary hardware at the end of this year, the cloud-connected technology won't function until 2021.
What Vehicles Include Active Driver Assist?
This high-tech feature is included with the Co-Pilot 360 Active 2.0 package, which comes standard with the F-150 Limited. It's also a $1,595 option with some other trims, such as the Lariat, King Ranch and Platinum. By choosing to upgrade early, owners get a $100 discount by paying for it now.
It will also be standard equipment with the new Mustang Mach-E First Edition, Premium and California Route 1 models. You can also upgrade the Select model with a $3,200 Comfort and Technology package that includes this feature. This package also comes with a 360-degree parking camera, a heated steering wheel and heated seats.
The Co-Pilot 360 system has a lot more to offer than simply the Active Drive Assist program. It comes with lane-keeping technology, adaptive cruise control and automatic braking. Plus, you can use the system to self-park the truck or crossover by simply touching a button.
What do you think about this new system? Is this something you are willing to pay extra for with a new F-150 or Mach-E?