We've told you about the upcoming Ford Bronco. Just last week, Ford filed a new patent for removable impact beams and doors. We believe this will be part of the Bronco SUV, but now an original sketch for a patent hints at a retractable cloth roof as well.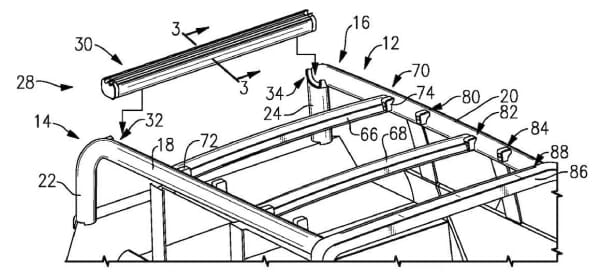 Retractable Cloth Roof Details
Unfortunately, we just don't have them yet. All we've seen are sketches that show a patent in the works. MotorTrend was actually the first to find these sketches and they show a removable cover that is put in place of the hard top. It will consist of two layers, one is mesh and the other is cloth. This means, there's an option between three different roof configurations. Drivers can choose an open-air adventure, a little wind and sun protection plus a complete cloth cover.
There's a little more to the story than just that. In fact, looking at the images allows you to see the roof pulled back while it receives support from stakes. This cloth cover is transformed into an awning which might be perfect for camping or fishing excursions.
What we've learned about automotive patents is that there's no guarantee we will ever see the options. Ford may never put these thoughts into production. Of course, we think the removable doors, beams and cloth cover all sound fabulous.
It creates the perfect opportunity for Ford to compete with the Jeep Wrangler and possibly take over the market. Of course, the new Bronco won't have as rugged of a design, but it gives buyers more options.
What Are Your Thoughts?
Are you excited at seeing some competition for Wrangler, or would you prefer that the Bronco stayed buried in history? Let us know if you plan to buy the newest Bronco SUV when it comes to production. We love to hear what you are thinking.