If you want to talk about a rear entertainment system, have we got some news for you! Ford filed a patent for a new truck bed movie screen system. This accessory turns the pickup bed of your Ford truck into a movie theater and might be the latest big thing to take over.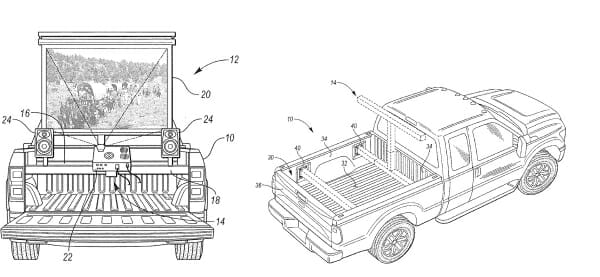 Truck Bed Movie Screen
The system consists of two telescoping supports which mount into receptacles. These are built into the truck bed sides. The first one sits near the front of the pickup. It features an "I" shape that allows owners to attach the movie screen. You'll also find a single cross-member found closer to the tailgate. This accommodates speakers and a projector.
In the patent, Ford states that the integrated design is superior to a custom setup. With another type of configuration, holes would have to be drilled in the bed. As you and I both know, drilling holes leads to corrosion and we don't recommend it.
While there aren't plans yet on how to bring the design to fruition, it sounds like a promising idea.
Other Truck Bed Innovations
Of course, this comes on the heels of some other significant truck bed innovations between automakers. It wasn't that long ago that the Ram Box made the news. We also reported last month on the Ram swing-open tailgate. Just last year, GMC released their Multi-Pro tailgate. It's capable of six configurations and allows drivers to turn the tailgate into a mobile workbench.
Because of all the new innovations, it makes sense that we would see Ford try to outdo the others. The question is, will we ever have a truck bed movie screen included in the F-150 or is this just to create more hype? Honestly, we wouldn't be opposed to being able to watch a movie on a warm, summer night from our truck bed. How about you?