Nearly 900,000 Ford F-150 and Super Duty trucks are involved in the latest Ford pickup recall in North America. This time, it's related to an engine block heater cable that poses a fire risk.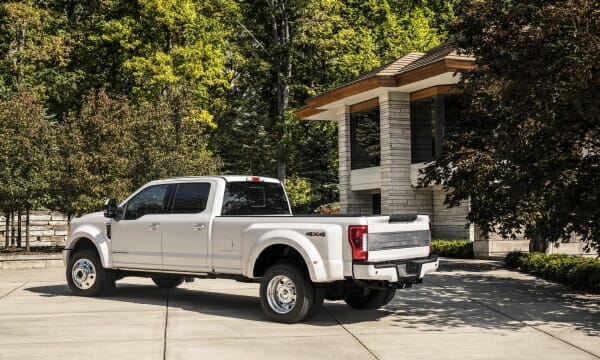 Ford Pickup Recall Information
Truck owners rely on the heater cable to warm up the engines during the cold, winter months. This cable hangs from the vehicle and plugs into an extension cord which runs into the driver's home or garage.
It turns out that water and other contaminants can get inside the cable's splice connector causing damage and corrosion over time. This leads to a short in the connector which causes the heater to become inoperable. More severely, users might trip the breakers while the vehicle is parked with the heater plugged in.
This creates a fire risk with the parked vehicle when users plug their block heater cable into the electrical outlet. In fact, there have been reports of three separate fires already because of this cable splice connector. One of these instances caused some damage. As of now, there aren't any reports of injury or further accidents.
410,000 of the trucks involved in the Ford pickup recall are from the United States, while the rest drive the roads of Canada.
Affected models include:
2015-2019 Ford F-150 trucks built in Dearborn, Michigan between March 18, 2014 and November 17, 2018.
2015-2019 Ford F-150 trucks built in Kansas City, Missouri between August 21,2014 and November 17, 2018.
2017-2019 Ford Super Duty trucks built in Ohio between February 5, 2016 and November 17, 2018.
2017-2019 Ford Super Duty trucks built in Kentucky between October 8, 2015 and November 17, 2018.
What Should You Do Now?
Once you receive the letter about the recall, make sure you make an appointment with your dealer. Otherwise, head to the Ford recall site and search your truck by its VIN to see if you need to schedule a repair.
This comes just two months after Ford's Focus recall and the one in September that required seat belts be repaired in 2 million F-150 trucks. Let's hope things settle down for the American automaker soon.