Polaris launched its "Summer to Drive" promotion recently. From now through June 30th, anyone that test drives a Slingshot receives a $50 credit to local restaurants. If you think nothing in life is free, Polaris sets out to prove otherwise. The question is, are you willing to test drive a Polaris Slingshot to receive a complimentary dinner?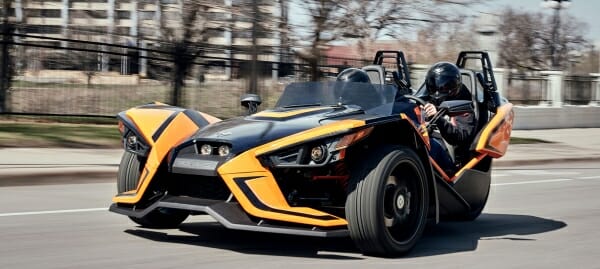 Summer to Drive Promotion
To get your $50 dining credit from Polaris in partnership with DiningAdvantage.com, all you must do is test drive a new Slingshot. This site doesn't give you straight gift cards to restaurants but instead provides deals for local establishments. A quick search in our area showed Buy One Get One Free meal or 25% off the entire check. In total, the website participates with countless restaurants across the country.
Test Drive a Polaris Slingshot
All four Polaris models being offered include a 2.4-liter DOHC four-cylinder GM Ecotec engine. This produces 173 horsepower and comes paired with a five-speed automatic transmission. It is a three-wheeler complete with a steering wheel, but it's not referred to as a motorcycle. Instead, it's termed an auto-cycle.
Promotion Rules
You can't have a promotion without rules. To get the $50 credit, you must be at least 18 and test the Slingshot before June 30th. Then, you must redeem the credit on DiningAdvantage.com prior to November 1st.
Also, rules state one card per household. On top of that, you can't transfer it. Once you redeem the card, you have until January 31, 2029, to use whatever you've chosen. We noticed several major chains available such as IHOP and Johnny Rockets, among many others.
We would love to hear how many of you plan to test out this vehicle for a gift card? If you decide to go, leave us a comment and let us know about your experience.
Speaking of new developments, did you see the possible Electric Ninja Motorcycle yet?