Freightliner is expanding its fleet. This time, they plan to add new medium and heavy-duty electric vehicles. The new Freightliner electric vehicles will come out of Silicon Forest in Portland, Oregon. Currently, Daimler Trucks North America is renovating the plant to handle production. First, they plan to test out these electric trucks with several customers.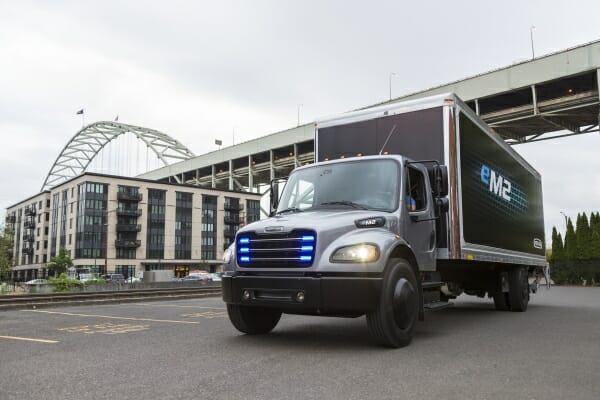 Freightliner Electric Vehicles
By the end of this year, the company plans to release 200 electric trucks for consumers to try. 50 of these will be in the United States. NFI and Penske are the first companies to test out this lineup. These trucks include:
Freightliner eM2 (produced in Oregon)
Fuso eCanter (made in Europe in Japan, but will be available in America)
Freightliner eCascadia (produced in Oregon)
Mercedes-Benz eActros (made in Europe)
Saf-T-Liner eC2 electric school buses (built by Thomas Built Buses out of North Carolina)
To further facilitate the arrival of these zero-emission vehicles for commercial transport, the company hopes to see three things. First, a standard charging infrastructure needs completion. Currently, Daimler AG is the founding member of CharIN. This organization works to standardize the requirements for EV charging.
The next hurdle is to create batteries that are powerful, but also lighter and cheaper. Commercial vehicle batteries must meet durability and quality standards that live up to customer expectations. After that, the cost of ownership must decrease. This could be done through fewer maintenance requirements, reduced energy rates and increased incentives.
Future of Electric Semi Trucks
With Tesla looking to create electric semi trucks as well, it makes sense for other companies to get in the action. The Tesla semi truck was initially planned for production any day. However, the company recently pushed that date back to 2020. Of course, they tend to promise one thing and deliver another, so this comes as no surprise. As a result, they allow other manufacturers time to compete.