We just found out that the Genesis Essentia EV Coupe will enter production. If you remember, we first saw the Essentia at the 2018 New York Auto Show. This grand tourer was unlike anything we ever saw before. At that time, we weren't sure it was going to enter production, but execs at Genesis recently confirmed it will.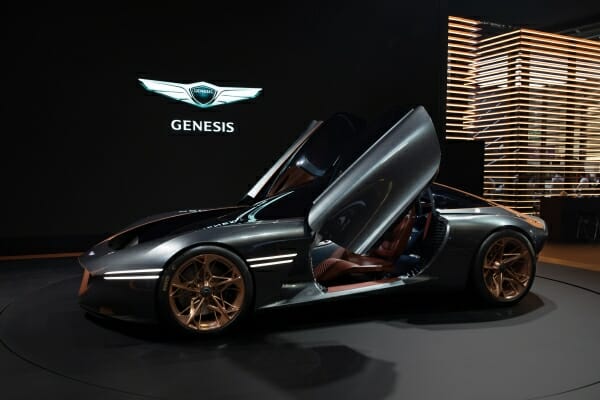 Genesis Essentia EV Coupe Design
Before you get into the spacious interior, you must first enter through the two gullwing doors. Both the chassis and body are made from carbon fiber. Then, there are two electric motors. One of them sits on the front axle while the other is on the rear. These work together to launch the coupe from 0 to 60 mph in only three seconds.
Honestly, we think the sleek design of the Essentia beats Tesla any day of the week. It features classic body lines and is just downright stunning. What pushes it over the edge is the tech-filled interior. You can't help but notice all the touchscreens as you enter the cabin.
Manfred Fitzgerald, the global head of Genesis then announced at this year's Auto Show that their upcoming electric vehicle won't be the Mint Concept. If you remember, we just told you about this Concept with our Auto Show electric car roundup. This only leaves Essentia to enter production.
Of course, we haven't received the full announcement from the company yet, but it seems inevitable.
Electric Car Competiton
We don't know when we can expect the Essentia EV to make an official debut, but we expect it won't take long. With Tesla ramping up sales and other automakers jumping in the game, Genesis won't want to wait. Even Porsche is rolling out a new Taycan to compete. If Hyundai's luxury arm wants to stay competitive, they won't drag their feet on this exciting endeavor.
How about you? Do you have a favorite luxury electric vehicle? Let us know in the comments.