General Motors announced new cars now come with Amazon Alexa. Many of the new vehicles now include this virtual assistant. All 2018 and newer Buick, GMC, Cadillac and Chevrolet vehicles come with Amazon Alexa starting next year thanks to a software update. This was announced at the Amazon Devices Event.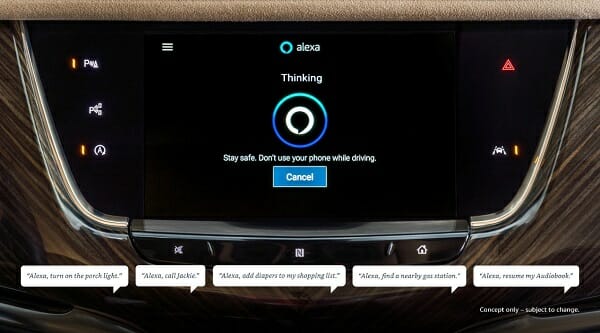 Amazon Alexa in GM Cars
Now drivers can utilize Alexa commands to get directions, play podcasts or songs, control smart home devices, or call people with their phone.
GM hopes providing Alexa encourages customers to look at this brand. Last year, GM launched in-car delivery thanks to Amazon Key. This advanced package delivery system allows delivery drivers into your car or home. It allows them to leave packages instead of dropping them on the doorstep. This prevents theft. Other car companies already offer Amazon Alexa; these include Audi, Ford, Lincoln, Lexus, Toyota and SEAT. 
Connect Alexa in your car by installing a particular device. You can use Roav Viva Pro, Speak Music's Muse, Amazon's own Echo Auto or Garmin speak by plugging it into the USB port and set it up quickly with the app. This device allows drivers to use Alexa's functions without any trouble.
Do You Need Alexa?
How do you feel about this new addition? Is it something that you have been hoping for from a new vehicle? Does it make you any more interested in a GM car, truck or SUV? If this is tech you are after, it won't be long before every automaker includes it.
Speaking of Amazon, it seems that they are up to a lot lately. For instance, they just committed to buy 100,000 electric delivery vans from Rivian. It appears they plan on jumping further into the automotive industry, in one way or another. They even sell a pretty decent motor oil, if you are interested!