If you haven't heard the big news, the GMC HUMMER EV has made its debut! This is considered the "World's First All-Electric Supertruck," but what is so special about this new electric-powered Hummer? Let's take a closer look.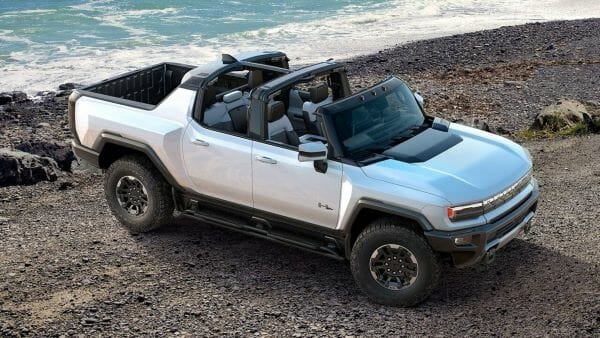 GMC HUMMER EV Debut
We expect to see this HUMMER with all-electric drive and a full cabin filled with high-tech features during the fall of 2021.
It is built on the Ultium electric vehicle platform. This platform is also part of the zero-emissions truck lineup coming from the automaker.
The style doesn't look too much different from the gas-powered HUMMER H2. The first model to hit the market will be the Edition 1, priced at $112,595. This model comes with all-wheel-drive, plus three electric motors that produce 1,000 horsepower. This EV can hit 60 mph in about three seconds.
Check out the removable roof panels that are on this short-bed crew cab. Plus, this truck includes GMC's six-position MultiPro tailgate, a power tonneau cover and a power opening rear window. It is also equipped with an air suspension system that increases the ride by six inches. The included four-wheel steering has a CrabWalk mode to move diagonally at lower speeds.
There is also a 360-degree camera that shows 18 various views, including one from under the truck. Customers can also take advantage of the Super Cruise driver aid. This system permits hands-free lane changes and driving on some highways that have been mapped out.
GM HUMMER EV Range
GM estimates that this truck drives 350 miles per charge. You can use 350-kilowatt public fast-charging stations, which provides 100 miles of range with every ten minutes.
GM plans to also introduce a model under $100k in the Fall of 2022. After that, we will see a $90k model with just two motors, the following spring 2023. Finally, in spring 2024, GM has an $80k option without the four-wheel-steering or air ride. If you want, you can order the Edition 1 right now, with just a $100 deposit.
Learn more about this electric-powered GMC HUMMER with the above YouTube video. Plus, don't forget to check out the 2021 GMC Canyon AT4.