Hennessey Performance is always creating something big. They announced earlier in the year that their team would be producing a Hennessey Maximus Gladiator in limited numbers. The company always likes to overdo things and the Maximus is going to be their best yet. This production version Jeep Gladiator will debut at the SEMA show this year.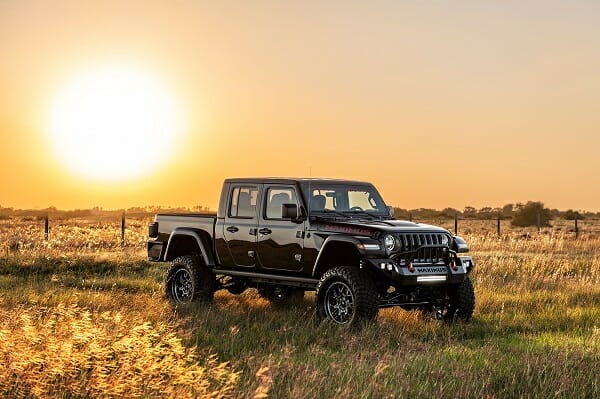 1000 HP Hennessey Maximus Gladiator
Are you unfamiliar with what the Maximus is? Let us fill you in. Hennessey took the trendy Jeep Gladiator pickup and dropped in a Hellcat supercharged 6.2-liter V8 coupled to an eight-speed automatic transmission. The engine itself has 707 horsepower and Jeep may have used the engine as it was, however, that was not enough for Hennessey. The team gave it more power and it now produces 1,000 horsepower and 933 lb-ft of torque.
Power isn't all Hennessey focused on though. They also wanted to make the exterior appealing too. They did this by lifting the vehicle 6 inches, putting on their own branded wheels with BFGoodrich tires that are made for off-road driving. Hennessey also made customized rear and front bumpers with LED headlamps. They needed axles that could handle all that power so they installed special axles with Dana 60 rear and front differentials.
Hennessey said that it can jump to 60 mph in 3.9 seconds. The downside to this Jeep is that it may break the bank at $225K. However, the price does include the Gladiator. If you can grab one these, you'll be lucky because Hennessey claims they are only producing 24 of these pickups.
Favorites from SEMA
We will be sharing other favorites from SEMA this year. Let us know if you would buy the Maximus Gladiator by Hennessey in the comments below. Stay tuned to Car Blog Writers for more updates or check out these Mopar Concept Trucks at the SEMA Show.