Hyundai has plenty of exciting news coming down the pipeline. In fact, they are planning to reveal their Hyundai Plug-in Hybrid SUV Concept at this year's Los Angeles Auto Show. The company went ahead and released a video plus some images prior to the debut.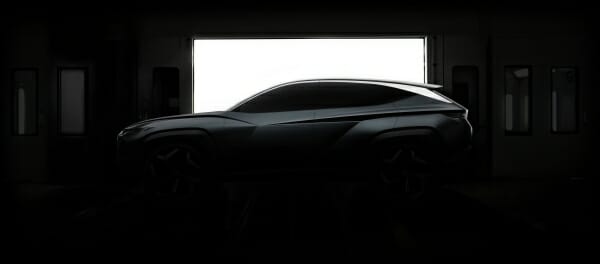 Hyundai Plug-in Hybrid SUV Concept Revealed
This new plug-in hybrid is scheduled for unveiling at the 2019 AutoMobility LA. This event is part of the LA Auto Show. So far, this SUV receives praise from the automaker as revolutionary. It is the seventh vehicle in Hyundai Design Center's concept series.
We're not sure whether this new SUV is a production design or a technological concept. However, the video and images suggest that the car may eventually be named Vision.
If you look very closely at the pictures, you can tell that a few things are missing. You'll notice that the side mirrors and door handles aren't installed. We're not sure what Hyundai's purpose is by doing this; only time will tell.
The company is talking a lot about the SUV's front grille. It features a sophisticated diamond-like pattern. Hyundai likes to call it a Parametric Air Shutter Grille. What's cool about this grille is that when the SUV is at a standstill, it will stay closed. However, when in motion, each cell will move in a specified order. This helps to control the airflow that the powertrain receives. It will also achieve better fuel efficiency and promote aerodynamics.
What Do You Think?
What do you think about the new Hyundai Plug-in Hybrid SUV? Would you consider buying one of these if they become available? Let us know your thoughts in the comments below.
You can also get more news about the Hyundai's 2020 lineup, by following our blog. To get started, check out the 2020 Hyundai Sonata.