Ford has worked with Harley before and they have created some pretty cool stuff. However, now it is GMC's turn to work with Harley-Davidson and create something that turns heads. GM has never worked with the company on trucks before so this should be interesting. In this article, we will talk about the Harley-Davidson GMC Sierra specs.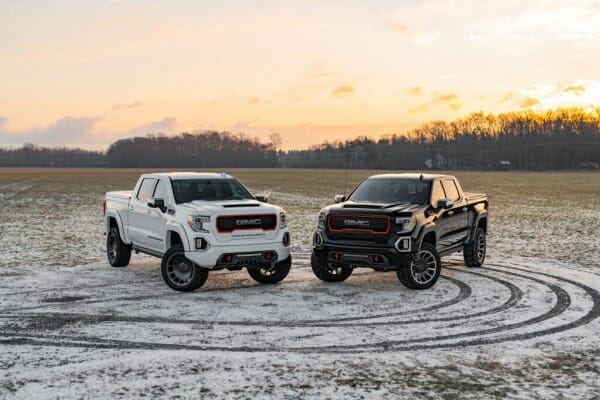 Harley-Davidson GMC Sierra Specs
The Harley Sierra looks similar to the Harley F-150 because of the 22-inch wheels, Harley Davidson badges,  unique bodywork and orange trim. The Fat Boy inspired wheels also provide plenty to marvel at.
These wheels are wrapped in 35-inch off-road tires and tucked under flared fenders. Plus, the Harley pickup shocks are manufactured by Fox. It features a V8 engine, orange-accented billet aluminum exhaust tips, LED light strip on the front bumper, recalibrated electronics, a BDS lift kit and a Harley-Davidson insert on the MultiPro tailgate.
The company added more than 65 special components, which include a piano black trim, lots of cool badges like the Harley-Davidson logo, a hard tonneau cover and orange-stitched black leather.
Like the F-150, there will only be 250 of the Harley GMC Sierra's produced annually. The starting price for the Harley-Davidson pickup truck is $94,995, so not everyone will be able to get their hands on it. The company is offering them to a specific group of GM dealers that will carry its products. If you want one, you will need to check with your local dealer.
You will be able to see this Harley at the Barrett-Jackson auto auction. The auction will take place in Scottsdale, AZ, on January 16.
Would you Drive this Truck?
What do you think of the new Harley-Davidson truck? Would you consider buying one of these for yourself? Let us know your thoughts in the comments.
If you like Harley-Davidson vehicles check out the 2019 Harley-Davidson Electric Motorcycle.