We have recently received the standings of the 2020 J.D. Power Initial Quality Study and the results may surprise you. Let's look at who J.D. Power deemed the top car brands of 2020.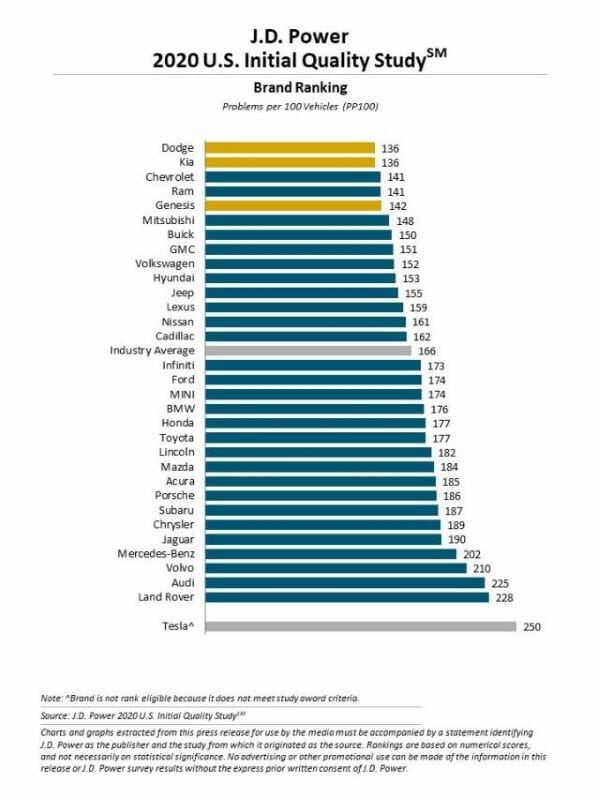 2020 Top Car Brands
While many of the automakers fared well this year, Tesla ended up at the bottom of the rankings. However, Kia and Dodge tied for the top spot, with 136 problems per 100 vehicles. What's most surprising is that seven of the American brands landed above the industry average. However, Chrysler, Lincoln and Ford came up short.
As the top car brands of 2019, Hyundai, Kia and Genesis took the top three spots. All three remain above the industry average, but only Kia gets to keep the title.
How are the Top Automotive Brands of 2020 Picked?
J.D. Power uses an owner survey that tracks the problems reported during the first three months of ownership. Some of these problems are simple complaints about the infotainment system, while others are major component failures.
Tesla had never been included in this study before, but the score of 250 consists of an asterisk notation. It turns out that the automaker refused to allow J.D. Power to survey the owners in 15 states, so the data was used from only 35 instead. This allowed Volvo, Audi and Land Rover to place higher than Tesla in the rankings.
J.D. Power also provided some scores on individual cars, allowing us to see the top models of 2020. Here are a few of the key segments.
Midsize car: Chevrolet Malibu
Midsize sporty car: Ford Mustang
Compact SUV: Hyundai Tucson
Compact premium SUV: Cadillac XT4
Large light-duty pickup: Toyota Tundra
Midsize pickup: Ford Ranger
Looking at these rankings, are you surprised by any of the findings? Does it change your mind when purchasing a vehicle, or do you take it all with a grain of salt? Let us know in the comments.