Harley-Davidson is putting a lot of money into their LiveWire to appeal to the EV consumer, but the new Jeep e-Bike could change everything. We know that this model might even hit the streets this year, making it a real threat to Harley's plans.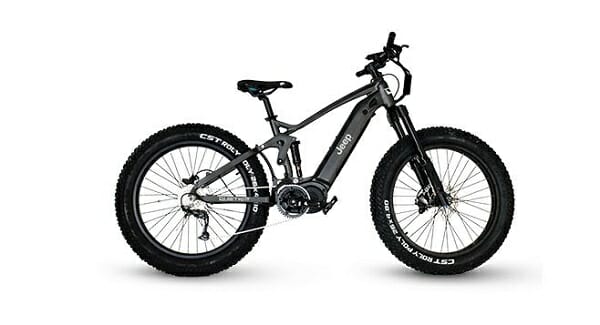 Jeep e-Bike Details
We first saw the e-Bike in the Super Bowl commercials. This all-terrain electric mountain bike is built by Quietkat. It features an all-aluminum Quietkat frame, known as the Ridge Runner.
While it might seem like a typical mountain bike, there's a lot more happening. First, it comes with a powerful motor. Secondly, it contains 4.8-inch fat tires. Finally, it is equipped with a full suspension that can take on any terrain, just like your favorite Jeep. Operate the e-Bike with a thumb throttle to activate pedal assistance or power it directly.
Why It's Better than Harley
Obviously, we aren't comparing apples to apples, but there's a lot more to love about the Jeep electric bike. It features an MSRP of just $6,299 and weighs only 80 pounds. This e-bike is powered by a 750 W motor, connected to its 696 Wh battery. With this power, it achieves a top speed up to 20 mph, plus features an electric range of forty miles.
The Harley, because it is an electric motorcycle, is going to cost a lot more and isn't nearly as popular. In fact, you could spend $30,000 on the LiveWire. Plus, no one is really buying the Harley model. Instead, it is sitting in the showrooms looking pretty.
However, the Jeep e-bike isn't the only option on the market. We have also told you about the Schwinn e-bike, VW Cargo e-bike and the HPC Scout Pro electric bicycle. It seems that Harley should continue doing what has worked if it hopes to succeed.
Let us know your thoughts about electric bikes in general.