When the Gladiator arrived, Jeep enthusiasts went crazy. Now that it is entering the second model year, it's time for Jeep to step up its game and take on the Raptor off-road trim. The Jeep Gladiator Mojave Package is the model created to fulfill the need. Let's take a closer look.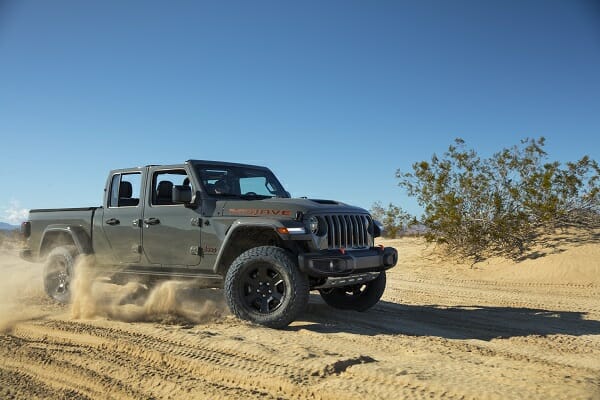 What is the Jeep Gladiator Mojave?
The Gladiator formed to follow in the Wrangler footsteps, with the addition of a truck bed. The automaker didn't need to make a lot of adjustments to make this model happen. For some Jeep fans, it just wasn't enough, which is why the Mojave package became a reality.
This upgrade offers far more than a base Gladiator, but it takes a different direction from the Rubicon. Enhancements focus on speed and include a reinforced chassis, 33-inch all-terrain tires and a rear locking axle. In addition, Fox Racing shocks come standard with reservoirs around them to keep the equipment from overheating. The front of the Gladiator Mojave is also raised an additional inch. This height offers a better approach angle, but the departure angle isn't as great as the Rubicon.
Hardcore off-road enthusiasts will be pleased to find out that this Jeep Gladiator Mojave is available with either a six-speed manual or eight-speed automatic transmission. If you are planning to have fun in the sand, you might prefer the automatic option, so you don't lose any momentum from human error.
We don't know the price of this new Gladiator model yet. However, reports suggest it might start around the same price as a Rubicon, which is set at $43,875. We also expect this truck to enter the competition this Spring.
What Gladiator Fits Your Lifestyle?
Have you had the chance to drive a Gladiator yet? What model did you find to fit your lifestyle the best?