We may not know a whole lot yet about the upcoming Jeep pickup truck, but we do have some tidbits of info. Of course, we will also learn more once the Los Angeles Auto Show begins.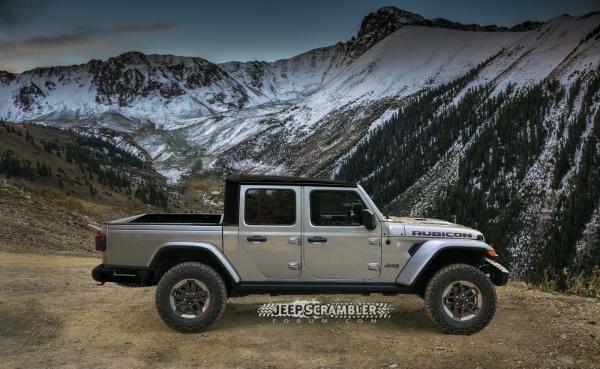 Jeep Pickup Truck Coming to LA
The Los Angeles Auto Show announced that the Jeep pickup truck would be on-site. While there's been a lot of speculation that the pickup will be dubbed the Jeep Scrambler, we don't yet have confirmation on it as of now. To be honest, there's a lot we don't know yet. Hopefully, the auto show changes that.
Here's What We Do Know
We do know that the Jeep pickup truck will be based on the Jeep Wrangler JL generation, except it will have a truck bed. There's also going to be a few minor alterations to the front bumper and grille. The rear will also be modified to accommodate the bed, but it's going to stay true to the JL design.
As far as the power goes, the Scrambler uses the same engines as a Wrangler. This includes the 270 horsepower 2.0-liter turbo 4-cylinder and 285 horsepower 3.6-liter Pentastar V6 engine.
We also know that the JL will be available with an EcoDiesel engine, just like the one in the Grand Cherokee and Ram 1500. We aren't sure if that will carry over to the Scrambler yet, but sure hope it does. There might even be a hybrid powertrain happening, be we haven't heard yet.
Inside the cabin, you can expect a similar interior to the JL. It will come standard with Apple CarPlay, Android Auto, a seven-inch or 8.4-inch UConnect infotainment system.
We anticipate the arrival of the Jeep pickup truck at the Los Angeles Auto Show. It begins November 30th and we plan to have full coverage for you then.