While Kawasaki continues to be one of the Big Four motorcycle manufacturers from Japan, we haven't seen much electric technology coming from their camp. Then, we saw the patent application for Kawasaki's battery swapping technology for an Electric Ninja Motorcycle.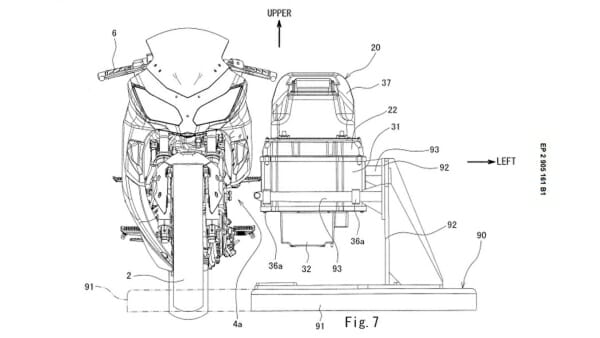 Patent from Kawasaki
What we see in the patent is a Kawasaki Ninja with an unfamiliar motor and battery combination where the conventional engine should be.
Of course, electric motorcycles aren't a new thing. We've recently reported about the 2019 Harley Davidson electric motorcycle and even the Fuell e-Bike. Still, getting an electric Kawasaki would be a big deal. What's more impressive is the unique battery system it looks like they are working on.
While the frame looks typical, it's made to be removed. There might be a latch or hinge in place. The frame side separates from the bike in front of the rear swingarm, behind the steering stem. Then, a rack or dolly slides under the bike to grab the battery. It slides the battery out and puts in a second battery in its place.
What you might not have known is that Kawasaki is working with Suzuki, Yamaha and Honda to create new battery technology for future electric motorcycles. With that in mind, funding for this project shouldn't be an issue.
Electric Ninja Motorcycle
The battery in the electric Ninja motorcycle appears to be a standard-size motorcycle battery. It isn't the smaller size you would anticipate. Maybe that's why there is a dolly to handle the heavier weight. We don't know if the concept will ever make it to market, but it's worth talking about.
At least we know that Kawasaki is interested in electric tech and willing to put some work into it. What are your thoughts on the way the future is panning out? Are you excited about the upcoming changes?